Joined

May 26, 2006
Messages

1,503
Reaction score

0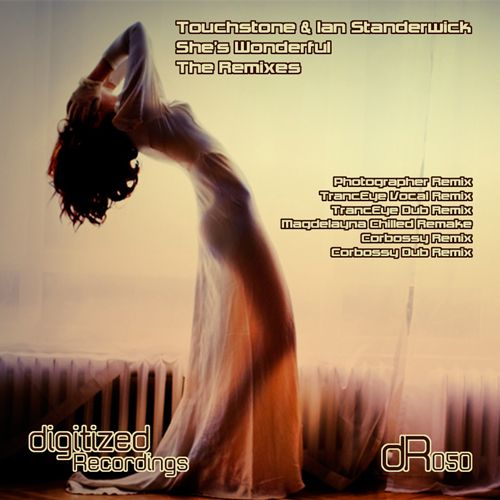 DR050 Touchstone & Ian Standerwick - She's Wonderful The Remixes
Photographer Remix
TrancEye Remix
TrancEye Dub Remix
Magdelayna Chilled Remake
Corbossy Remix
Corbossy Dub Remix
Beatport exclusive - OUT NOW Click link below to purchase:
http://www.beatport.com/release/shes-wonderful-the-remixes/1132126
Worldwide release - 26th August 2013
Soundcloud links:
http://soundcloud.com/digitized-recordings/sets/touchstone-ian-standerwick-1/
After the success of the original hitting number one last year, a lot of people came forward asking to remix the track. So we decided to release a remix package consisting of the cream of the crop of the producers that came forward. Those been Photographer, TrancEye, Corbossy and Magdelayna. Each has stamped their own sound on the track and the results are incredible.
The release has had massive support from the likes of Paul van Dyk, Aly & Fila, Manuel Le Saux, Photographer, Giuseppe Ottaviani, M.I.K.E., Steve Morley, Hughes & Ballantine, Allen & Envy, Dave Horne, Simon Bostock, Natalie Parker, Lazarus, Les Hemstock, Ascania, Woody Van Eyden, Ollie Jaye, Kara Sun, Touchstone, Odonbat, Fast Distance, Zirens, Kaeno, tranzLift, Ex-Driver, Gav Pilling, Akira Kayosa, Chris Cockerill, El Jay, Chapter XJ, Glynn Alan, Katy Rutkovski, Ian Standerwick, Suzy Solar, Physical Phase, Dave Deen, North Pole, Zutt Muziker, Tasso, Estigma, Mike Rodas, Iversoon & Alex Daf, Si Whelan, Gareth Weston, Suprano, Bluehawk, C-Systems, Space Garden, Barry Duffy, Paul Pearson, Ian Betts, Neil Bamford, Dean Thomas, Bryan Summerville, Ozzy XPM, Laura May, James Dymond, El Haag Martin, William Daniel, Karybde And Scylla, Tangle, Andrea Mazza, Matt Bowdidge, Lee Thompson, Angel Ace, Alan Banks, Justin Grimes, Richie Alexander, Andy Mac, TrancEye, Mark Winstanley, Daniel Skyver, David McRae, Scott Lowe, Magdelayna, Chaim Mankoff, Amitacek, Curtis & Craig, Phalanx, Mr Carefull, Tom Yelland, Neil Hunter, Abstract Vision, Cliffy Burrows plus more.
All in all a great package and I hope you all enjoy it.