Joined

May 26, 2006
Messages

1,502
Reaction score

0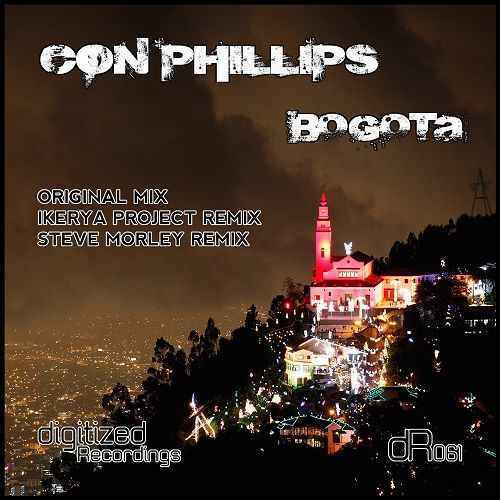 DR061 Con Phillips - Bogota *OUT NOW*
Original Mix
Ikerya Project Remix
Steve Morley Remix
Beatport exclusive - *OUT NOW* Click link below to purchase:
http://www.beatport.com/release/bogota/1256071
Worldwide release - April 7th 2014
Con Phillips makes his debut on Digitized Recordings with the massive power uplifter 'Bogota'. With it's driving bassline, acids and huge melody it's a huge debut to make. Remixes come from another debutante Ikerya Project and the legend that is Steve Morley.
Ikerya Project has gone for the more uplifting root whilst still keeping the tracks drive and power. Steve has gone down the epic root but again still keeping the tracks pace.
Soundcloud link to hear previews below:
https://soundcloud.com/digitized-recordings/sets/dr061-con-phillips-bogota
The release has seen huge support from the likes of:
Manuel Le Saux, Steve Morley, Sneijder, Giuseppe Ottaviani, Touchstone, Standerwick, Gareth Weston, Mark Leanings, Pete Bromage, Odonbat, Paul Pearson, New World, Abora Radio, William Daniel, Les Hemstock, Gordon Coutts, Suprano, Lazarus, Lee Thompson, Dave Wright, Kumara van der Gaast, Space Garden, Victor Prada, Dean Thomas, Full Effect, Dave Gormas, Leon Byk, Zirens, Philip Estevez, Alex Blest, Simon Bostock, Glynn Alan, Chris Cockerill, Tom Yelland, Mike Shiver, Tangle, Dave Deen, Rob Van Arden, Andrea Mazza, Rhys Thomas, Rya, M.I.K.E. (Push), Cliffy Burrows, Angel Ace, Suzy Solar, Karybde And Scylla, Xmania, Dave Horne, Lost Witness, Pusher, Ex-Driver, Joe Cormack, Ian Betts, Vicky Devine, El Jay, Matamar DJ's, Dave Nadz, Above The Clouds, Magdelayna, Ollie Jaye, Chapter XJ, North Pole, Bluehawk, Akeni, Simon Gledhill, tranzLift, Ben Aldred, Jessica B, Amitacek, Santi Project, Laura May, Bryan Summerville, Riot Night, Estigma, Ozzy XPM, Justin Grimes, Mark Winstanley, Davey Asprey, Katy Rutkovski, Phalanx, Nymark & Dryden, Andy Mac, Jon Martin, Matt Harrison, Zutt Muziker, 5thDimension, Andy Cain, Neil Redden, Curtis & Craig, Iversoon & Alex Daf, plus more.
We hope you enjoy this release
* FREE PRIZE ALERT*
The Digitized Recordings Facebook page is fast approaching 2000 fans. To celebrate this I will be giving away a premium promo pack for free. That means you will be added to the promo list for 10 releases. This winner will be picked at random from the fans list once the page hits 2000. Click the link below to join the page:
https://www.facebook.com/pages/Digitized-Recordings/205098039542246