Joined

Mar 25, 2010
Messages

991
Reaction score

0
New signing Fast Distance opens his account on InfraProgressive with a massive summer style vocal track in Another Life. Featuring the beautiful voice of Stine Grove, this is another stand out track from the Infrasonic staple, and a monster in its own right.
Another new comer in the shape of American producer Johnny Yono heads the package. Following a number of fantastic releases in 2010, Johnny has been on our radar for some time and with original work on the way over the coming months this guy is one our hot tips to blow up in 2011. In typical Yono fashion he takes the track by the scruff of the neck and re-works the gorgeous vocals from Stine perfectly, before an almighty crescendo.
Wiz kid Willem de Roo completes the package with another remix that doesn't disappoint. We have championed this uber talented producer on a regular basis over the last 12 months and this is the reason why. Lovely piano lines, soft and silky atmospherics and vocal chops a plenty make for another stellar performance.
The summer has finally landed!
Radio/Dj Support:
Bobina, Richard Durand, Steve Anderson, Dan Stone, MK S, Duderstadt, Arctic Moon, 7 Skies, Dj Ange, Andrelli & Blue, Ferry Tayle, Sophie Sugar, Sebastian Brandt, Nurettin Colak, Setrise, Bjorn Akesson, Sequentia, Agnelli & Nelson, Jon O'Bir, Danjo & Style, Pedro Del Mar, Mark Eteson, Cold Blue, Manuel Le Saux, Talla XL, Duende, Suncatcher, Steve Brian, M.I.K.E, Daniel Kandi, Jorn Van Deynhoven, Ruben De Ronde, Fast Distance, Vast Vision, The Flyers & Mike Sonar, Haris C, Michael Angelo, Sneijder plus many many more..........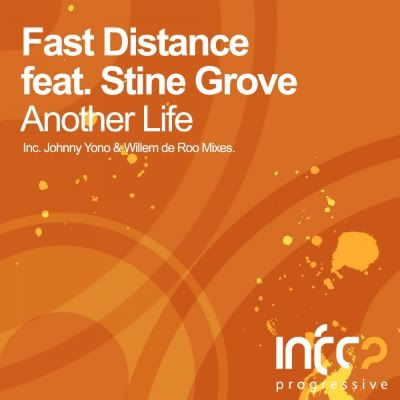 Tracklist:
01. Fast Distance feat. Stine Grove - Another Life (Original Mix)
YouTube - ‪Fast Distance feat. Stine Grove - Another Life (Original Mix)‬‏
02. Fast Distance feat. Stine Grove - Another Life (Johnny Yono Remix)
YouTube - ‪Fast Distance feat. Stine Grove - Another Life (Johnny Yono Remix)‬‏
03. Fast Distance feat. Stine Grove - Another Life (Willem de Roo Remix)
YouTube - ‪Fast Distance feat. Stine Grove - Another Life (Willem de Roo Remix)‬‏
04. Fast Distance feat. Stine Grove - Another Life (Dub)
YouTube - ‪Fast Distance feat. Stine Grove - Another Life (Dub)‬‏
05. Fast Distance feat. Stine Grove - Another Life (Johnny Yono Dub)
YouTube - ‪Fast Distance feat. Stine Grove - Another Life (Johnny Yono Dub)‬‏
06. Fast Distance feat. Stine Grove - Another Life (Willem de Roo Dub)
YouTube - ‪Fast Distance feat. Stine Grove - Another Life (Willem de Roo Dub)‬‏
OUT NOW exclusively at Beatport:
http://bit.ly/koQ1GG
_____________________________
For all info and release dates please visit:
http://www.infrasonicrecordings.com
Infrasonic Music | Facebook
YouTube - ‪InfrasonicRec's Channel‬‏
Infrasonic Music (InfrasonicRec) on Twitter
Infrasonic Recordings | twitter.com/InfrasonicRec | Free Music, Tour Dates, Photos, Videos