Joined

Feb 23, 2007
Messages

106
Reaction score

0
LIKE Silk Music:
http://www.facebook.com/SilkMusic
SUBSCRIBE to Silk Music:
http://bit.ly/SilkYouTube
Samples & Purchase:
Beatport:
http://bit.ly/SilkSofa
iTunes:
http://bit.ly/SILKSF066-iTunes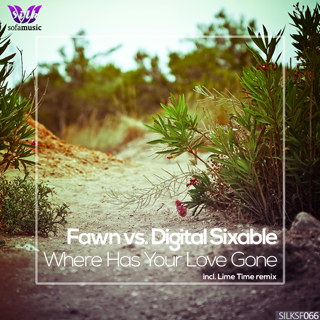 Award winning ASCAP singer/songwriter Fawn and American rising artist Digital Sixable previously showed us their "Solitude" collaboration on Silk Digital. "Where Has Your Love Gone" is their first single on Silk Sofa, which includes a refreshing remix by Russian artist Lime Time.
The original mix starts out with a magical soundscape, quickly introducing lush synth stabs and enjoyable sound effects. Soon, the haunting vocals of Fawn emerge, supported brilliantly by an underlying piano melody and fresh percussion elements. The break heightens the mystical atmosphere by introducing new, soothing melodies and sound textures. A radio edit of this song is also provided, cutting away half of the length of the original.
Lime Time's interpretation starts out with a blissful atmosphere and ingenious sound effects. A piano line and a mesmerizing arpeggio line are introduced soon thereafter, and Fawn's vocals emerge in a truly dreamy and comforting context.
Info:
Cat#: SILKSF066
Beatport release date: October 24th, 2013
iTunes release date: November 7th, 2013
Genre: downtempo, chillout
Format: digital
Stores: Beatport, iTunes, JunoDownload
Tracklist & YouTube Previews:
03 Fawn vs. Digital Sixable - Where Has Your Love Gone (Radio Edit)
Feedback:
Jaytech, Ruben de Ronde, Ad Brown, Kenneth Thomas, Stephen J. Kroos, Solarstone, Braak, James Warren, Myon and Shane54, Wahed Achterberg, Daniel Davis, Shawn Mitiska, Vintage & Morelli, Raz Nitzan, Max Graham, Soarsweep / Smooth Stab, Deepsense, Peter Illias, Gai Barone, Yuriy From Russia, Dynamic Illusion, Dash Berlin
Artist Info:
Fawn vs. Digital Sixable:
https://soundcloud.com/digitalsixable
|
http://www.fawnmusic.com
Lime Time:
https://soundcloud.com/limetime
For More Information:
Facebook:
http://facebook.com/SilkMusic
YouTube:
http://youtube.com/user/SilkMusicChannel
Twitter:
http://twitter.com/SilkMusic
SoundCloud:
http://soundcloud.com/SilkMusic
Google+:
http://gplus.to/SilkMusic
Silk Royal Showcase:
http://silkroyalshowcase.com
Photography:
Photographer: Harold-Alexis Scheffel
Website:
http://500px.com/Harold-Alexis