Future Force Recordings is the fresh, new, forward-thinking imprint set up by HIDE & SEEK and Jan Johnston.
A label built by artists for artists, its ethos is to nurture artists and their sound not to mold them to industry expectations.
Started in June this year, they have already built a formidable roster which includes some of the best up-and-coming talent from around the globe, with a number of smash hits this Summer from the likes of Andy Newtz, Carlos de Matos and Dan Offside to name a few.
A home for artists and the future sound of trance, FFR is quickly becoming the fastest growing label in the trance arena – and one to watch for sure!
Full lineup and flyer coming soon.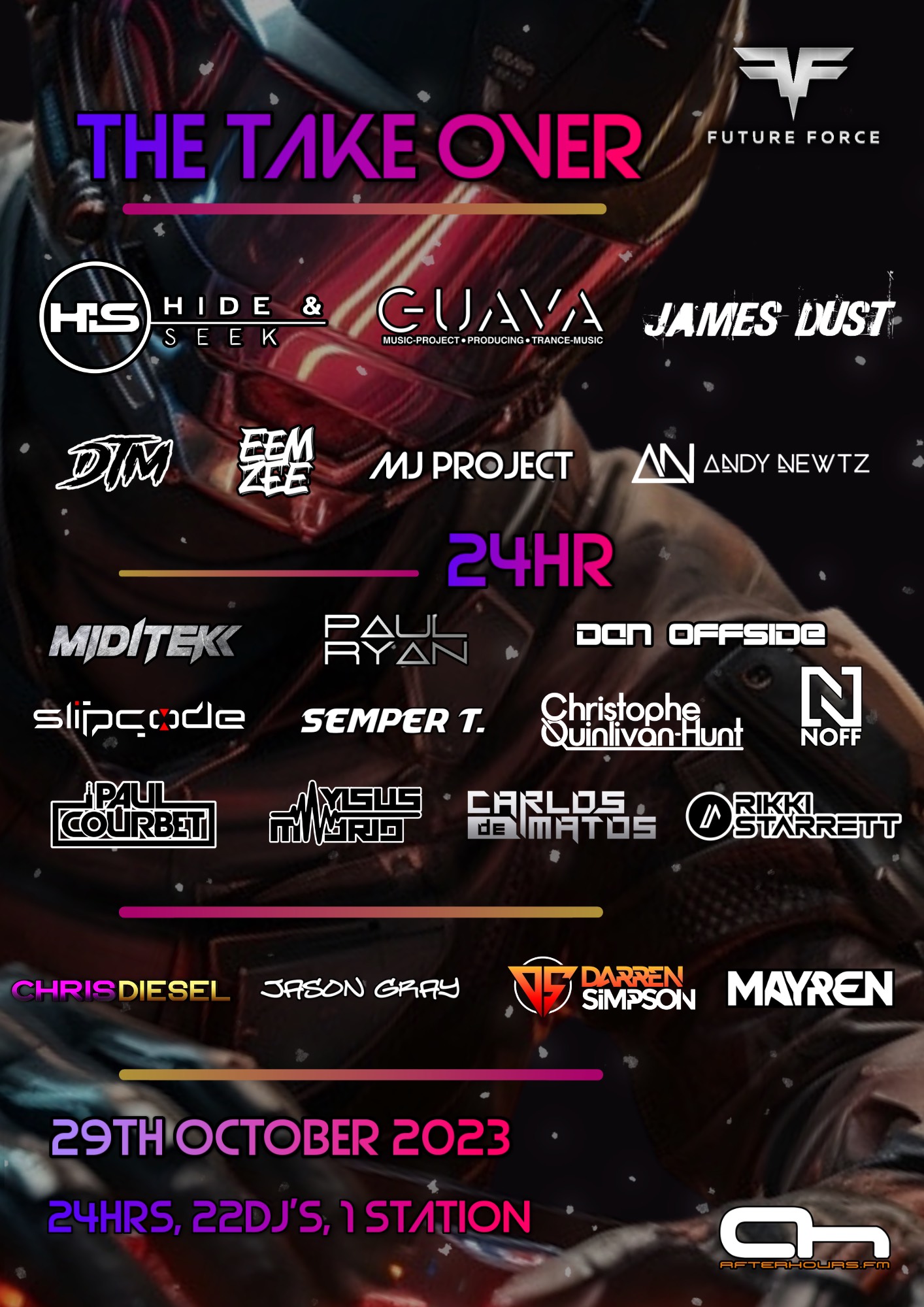 01 - Slipcode - Future Force Takeover on AH.FM 29-10-2023
01. Renegade System - Feelin' In Demand (Extended Mix)
02. Rubix, Nick K2 - Notorious (Rodi Style Remix)
03. Jan Johnston, Johan Gielen, Svenson & Gielen - Beachbreeze [Remember the Summer] feat. Jan Johnston (David Forbes Extended Remix)
04. Semper T. - Indulgence (Original Mix)
05. Ed Sánchez - Magenta (Original Mix)
06. Simon Patterson - Up (Extended Mix)
07. Shugz - Hit Me (Extended Mix)
08. Jason Nawty, Nick van Kukaj - Weird Dreams (Extended Mix)
09. Angelus - Heart Medicine (Extended Mix)
10. Ben Gold, Allen Watts - Storm (Extended Mix)
11. Rikki Starrett - AI Slave (Original Mix)
12. Dominant Space - Hydrate (Original Mix)
13. David Forbes - Underground (Extended Mix)
02 - Jason Gray - Future Force Takeover on AH.FM 29-10-2023
01. RAM - RAMplify (Asteroid Remix) (NK)
02. Jason Gray - No One Else But You (Defiant)
03. Artena - Let Me Fall (OneForty)
04. Aly & Fila, Billy Gillies - Kings (FSOE)
05. Allen Watts, Yoshi & Razner - Bohemia (Who's Afraid Of 138)
06. Lee Coulson - A New Dawn (OneForty)
07. Jason Gray - Ascension (Phoenix Recordings)
08. Svenson & Gielen feat. Jan Johnston - Beachbreeze (David Forbes Remix) (Black Hole)
09. NG Rezonance & PHD - Lost In Music (Positive State)
10. Bryn Whiting & B.E.A.R - Are You Not Entertained (Tidy)
11. Chris Diesel & Jason Gray - Unity (Future Force)
12. Ryan K - Tech-Trance, Bass & Speed (Tidy)
03 - Rikki Starrett - Future Force Takeover on AH.FM 29-10-2023
01. Our Last Train Together (Steve Allen Remix) - Ciaran McCauley
02. Unbroken - Liam Melly, Angelus, JSKA
03. Your Love (RAM Extended Remix) - Rene Ablaze, Amin Salmee
04. Million Stars - Richard Durand, Ciara Yates
05. Underground - David Forbes
06. Renegade - David Forbes, Allen Watts
07. Stay - David Rust
08. Crazy B*tch - Valhalla
09. Boomerang - KINETICA
10. Busted Flush - Polzn Bladz, Pulse Code
11. Illusion - Graham Wootton
04 - Christophe Quinlivan-Hunt - Future Force Takeover on AH.FM 29-10-2023
01. Technotronic - Pump Up the Jam (Mark Sherry Remix)
02. PvD - Nothing But You (Christophe Quinlivan-Hunt Bootleg Remix)
03. Christophe Quinlivan-Hunt - Early Day Motions [Out 20.10.23]
04. ID - ID (Christophe Quinlivan-Hunt Remix)
05. Sneijder & Thomas Bronzwaer - Into The Light (Christophe Quinlivan-Hunt Bootleg Remix)
06. Allex Trancer - Gateway to Heaven (Christophe Quinlivan-Hunt Remix) [Out 08.11.23]
07. Christophe Quinlivan-Hunt - ID
08. Isotopia - Beautiful Memories (Christophe Quinlivan-Hunt Remix)
09. Solar Factor - No Return (Push edit)
10. Christophe Quinlivan-Hunt - Privy Council
11. Mario Piu - Thunderstruck (Voolgarizm Mix)
12. Christophe Quinlivan-Hunt - ID
13. Rodd-y-ler - Lifesigns (Christophe Quinlivan-Hunt 2023 Bootleg Remix)
05 - Dan Offside - Future Force Takeover on AH.FM 29-10-2023
01. Andy Newtz - Beyond The Shadows
02. James Dust - World Is Burning Down
03. Dan Offside - Someone You Loved
04. Paul Courbet, U-Mount - Paralimi Sunsets
05. Dan Offside - Tantalize
06. Andy Newtz - When It's Time
07. Paul Denton - Blinded By The Lights
08. Dan Offside - Hold On To Me
09. Dan Offside - Pefect Storm
10. Dan Offside - Solar Fractions
11. John O'Callaghan & Nikolauss - Blaithin
12. Jue - Anhedonia
13. Roman Messer - Better One
06 - Eemzee - Future Force Takeover on AH.FM 29-10-2023
01. HIDE & SEEK - Freaking Damn Crazy [We Are Trance]
02. Miditekk - Support Network [Tranceformer]
03. James Dust & Noff feat. Jodie Poye - Lord Is A Feeling [Future Force Recordings]
04. Semper T. - Red-Letter Day [Rated Records]
05. MJSM & John Leddy - Does It Feel Like Love
06. Freefall feat. Jan Johnston - Skydive (Nicholson Bootleg Remix)
07. Miditekk - Changing Times [Future Force Recordings]
08. James Dust - World Is Burning Down [Future Force Recordings]
09. Polzn Bladz - Oracular [Future Force Recordings]
10. HIDE & SEEK - Solstice [VANDIT]
11. Guava - Close Your Eyes [Future Force Recordings]
12. Dan Offside - Hold On To Me [Future Force Recordings]
13. Semper T. - Indulgence [Future Force Recordings]
14. Dan Offside - Perfect Storm [Future Force Recordings]
15. MJ Project x Eemzee - Rodimus [Future Force Recordings]
16. Guava - Rhythm Of The Universe [Positive State]
17. Christophe Quinlivan-Hunt - Privy Council [Radiation Recordings]
18. Eemzee - Caterpillar [Juiced Digital]
19. HIDE & SEEK - Terminal Velocity [Future Force Recordings]
20. James Dust feat. Dayana - Strong [We Are Trance]
21. Andy Newtz - Newtralized [Future Force Recordings]
22. Andy Newtz - Dark Fate [Future Force Recordings]
23. Slipcode & BassJumper - Keep Moving Forward [Future Force Recordings]
07 - MJ Project - Future Force Takeover on AH.FM 29-10-2023
01. Paul Courbet - Illuminate
02. Tom Exo - Brightstar
03. Slipcode & Bassjumper - Keep Moving Forward
04. Yisus Madrid - Horrocrux
05. Tronikol - Day Dream
06. Paipy - Dream State
07. Hide & seek - Polaris
08. EEMZEE - Caterpillar
09. Rikki Starret - Never Change
10. Dan Offside - Hold Onto Me
11. Travel - Bulgarian (Shugz remix)
12. Fawzy & Sickcode - Victorious
13. Ryan Lambert - Lost In Space
08 - Andy Newtz - Future Force Takeover on AH.FM 29-10-2023
01. Gareth Emery & Christina Novelli - Concrete Angel (Andy Newtz Intro Mix)
02. Chris Cockrill & Red Sky - Closing In
03. Andy Newtz - Siren's Whisper
04. Andy Newtz - Melodie Del Tramonto
05. Andy Newtz - A Million Pieces
06. Andy Newtz - Powersurge
07. Andy Newtz - Fan The Flames
08. Bedrock - Heaven Scent (Andy Newtz Bootleg Remix)
09. Andy Newtz - When It's Time
10. Andy Newtz - Newtralized
11. Andy Newtz - Beyond The Shadows
09 - Hide & Seek - Future Force Takeover on AH.FM 29-10-2023
01. Mhammed El Ami - Summer Is Over
02. Lisa Louder feat. Jodie Poye - Safe Place (Craig Connelly Remix)
03. Paul Ryan - Despina
04. Fiscial Project - Invicta
05. Mark Maguire - Aerial
06. HIDE & SEEK - Polaris
07. Ben Gold - Rest Of Our Lives (Paul Webster Remix)
08. HIDE & SEEK - Solstice
09. Paul Corbet & U-Mount - Paraliminal Sunsets
10. James Dust - World Is Burning Down
11. Tiesto - Lethal Industry (Jorn van Deynhoven Remix)
12. High 5 - As Long As It Takes
13. Ralph B - Massive (Alchimest Remix)
14. RAM - Amsterdam (Jorn van Deynhoven remix)
15. Energy 52 - Cafe del Mar (Paul van Dyk remix)
16. Paul van Dyk x Marc van Linden - Beautiful Life
17. Oceanlab - Satellite (Ciaren MacAuley Remix)
18. Mhammed El Ami - Healing
10 - James Dust - Future Force Takeover on AH.FM 29-10-2023
Tracklist: not uploaded / not uploaded yet

11 - Guava Project - Future Force Takeover on AH.FM 29-10-2023
01. Rino Da Silva & DJ JayCan - The Conquest (Extended)
02. David McRae - Redefine (Original Mix)
03. Guava Project - ID
04. John O'Callaghan - Flow Through (Extended Mix)
05. Ronski Speed, Sygma & Fra.Gile - U Found Me (Extended Mix)
06. Hide & Seek - Polaris (Extended Mix)
07. Guava Project - Close Your Eyes
08. Tom Exo - Lost Love (Extended Mix)
09. Guava Project - ID
10. Macid - Nautilus (Extended Mix)
11. Mirage, Ferry Tayle, Tonks - Chimera (Extended Mix)
12. Allen Watts - Resonate (Extended Mix)
13. Kismet 333 - Be the Change (Extended Mix)
14. Dan Stone - BRKLYN (Extended Mix)
15. Peter Miethig - Little Wonders (Extended Mix)
16. Guava Project - ID
17. Gary Murray - One Universe (Extended Mix)
18. Db Mokk - Manufact (Extended Mix)
19. Metta & Glyde - Yearning (Original Mix)
20. Guava Project - ID
21. Eryon Stocker - Ataraxia (Extended Mix)
12 - Semper T. - Future Force Takeover on AH.FM 29-10-2023
01. Dan Cooper - Eden [Nocturnal Knights]
02. Andy Newtz feat. Jodie Poye - Don't Let Me Fall [We Are Trance]
03. Semper T. - Paramount [Yeiscomp]
04. Stoneface & Terminal with Aldous feat. Faus - Burn So Bright [In Trance We Trust]
05. Semper T. - ID
06. Bryn Withing & GXD - Conscious State [Regenerate]
07. Paul Denton - Siren [Dreamstate]
08. Professor Bird - Reveira [Silent Shore]
09. Andrea Ribeca - Into The Future [FSOE]
10. Tom Colontonio - 7 Years [Subculture]
11. Ciro Visone & Semper T. - Tunnel To Eternity [Tuned:FloW]
12. Liam Melly - Energy [Afterdark]
13 - DTM - Future Force Takeover on AH.FM 29-10-2023
01. Adam Taylor, Clara Yates - White Flag (Extended Mix)
02. Racoon - Elements (Original Mix)
03. Alex M.O.R.P.H., Cheryl Barnes - Against the Wind (Extended)
04. Paipy - Run (Extended Mix)
05. Artifi - Exhausted (Original Mix)
06. BiXX - Trance At The Opera (Extended Mix)
07. Lost Knowledge, 3KM - Help Me (Extended Mix)
08. Johan Gielen, Airscape - Endless Forever (The WLT Extended Remix)
09. Darren O'Brien, Violet Dolivo - Forbidden Love (Paul Denton Extended Remix)
10. Bo Bruce, Gareth Emery - U (Bryan Kearney Remix)
11. Sun Decade, DJ T.H., Ronski Speed, Clara Yates - Too Far Tonight (Extended Mix)
12. TrancEye - Uriel (Ben van Gosh Extended Remix)
13. John Askew - Running in the Dark (Extended Mix)
14. David Forbes - Equator (Extended Mix)
14 - Carlos de Matos - Future Force Takeover on AH.FM 29-10-2023
01. Carlos de Matos - ID
02. Vinny DeGeorge - Gravitas (Extended Mix)
03. Carlos de Matos - Gift of Love (Extended Mix)
04. Abell - Lost Without You (Extended Mix)
05. Talla 2xlc, Allen Watts - Helix (Extended Mix)
06. Carlos de Matos - Perpetual Cycle (Extended Mix)
07. Carlos de Matos - Overturn (Extended Mix)
08. 0Gravity - Starwalk (Extended Mix)
09. CDM Projekt - Renaissance (Extended Mix)
10. Dan Offside - Hold On To Me (Extended Mix)
11. Adam Szydlik - Nivettin (Extended Mix)
15 - Mayren - Future Force Takeover on AH.FM 29-10-2023
01. James Dust - Daylight (Para X Remix)
02. James Dust & Thomas Lloyd - For the Love of a Princess (From "Braveheart") (David Heart Remix)
03. Binary Finary - 1998 (STEVE HILL VS TECHNIKAL MIX)
04. HIDE & SEEK - Waiting on Heaven's Call (Airnova Remix)
05. The Quest - C Sharp (CHR!S P Bootleg 2020)
06. Tasso - Nothing Yet (Extended Mix)
07. Technikal - Drop It (Original Mix)
08. Phil Reynolds - Back 2 Abs (Dave Steward Remix)
09. Germont - Aiyda (Extended Mix)
10. Will Atkinson - Leave A Message (Original Mix)
11. Saiful Harun & Sonic Wave - Prank Call (Extended Mix)
12. Diarent - Evolution (Extended Mix)
13. Darren O'Brien - PIAV (Extended Mix)
14. Ayla - Ayla (Omar Sherif 2016 Remix)
16 - Paul Courbet - Future Force Takeover on AH.FM 29-10-2023
01. Sean Tyas & Cari - Anywhere (Extended Mix)
02. Maria Healy - Reputation (Extended Mix)
03. Michael Milov & LR Uplift - Universe (Extended Mix)
04. Paul Courbet - Losing It (Extended Dub Mix)
05. Alessandra Roncone - Unkonsciousness (Extended Mix)
06. Tom Colontonio - 7 Years (Extended Mix)
07. Inrayzex - Echoes Of The Past (Extended Mix)
08. Lostly - As You Leave (Extended Mix)
09. Luke van Ness - Arrival (Extended Mix)
10. Asteroid - Forever | Now (Extended Mix)
11. Arggic - Can't Ignore It (Extended Mix)
12. Sneijder - Dawn (Extended Mix)
13. Aly & Fila X Alex M.O.R.P.H. feat. Cheryl Barnes - Eye Of The Storm (Extended Mix)
14. Revolution 9 - Tundra (Extended Mix)
17 - Yisus Madrid - Future Force Takeover on AH.FM 29-10-2023
01. Yisus Madrid - Horrocrux (Original Mix) [Future Force Recordings]
02. Aizen - 3 Days Are Not Enough (Extended Mix) [Borderline Music]
03. Lostly - As You Leave (Extended Mix) [Borderline Music]
04. Yisus Madrid - With You (Extended Mix) [Digital Society Recordings]
05. Daxson - Before It's Lost (Extended Mix) [Future Sound of Egypt]
06. Lostly - That Next Place (Extended Mix) [Borderline Music]
07. Yisus Madrid - Break (Original Mix) [Activate Recordings]
08. Asteroid - Forever | Now (Extended Mix) [Deep Space]
09. Factor B - Sacrosanct (Will Rees Extended Remix) [Pure Trance Neon]
10. Yisus Madrid & Maxine - I Don't Wanna Cry (Extended Mix) [Amsterdam Trance Records]
11. Nicholson - Unstoppable (Winner) (Extended Mix) [Amsterdam Trance Records]
12. Lucas Deyong - Kamehameha (Extended Mix) [High Voltage Recordings]
13. Inoblivion - Silver Was The Sky (Extended Mix) [Kearnage Recordings]
14. Allen Watts - Set Me Free (Extended Mix) [Kearnage Recordings]
18 - Darren Simpson - Future Force Takeover on AH.FM 29-10-2023
01. intro
02. Renegade System - Some Day (Extended Mix)
03. Metta & Glyde - 11:11 (Extended Mix)
04. Darren Simpson - Fractured
05. John Askew - Running in the Dark (Extended Mix)
06. Everlight feat. Emma Chatt - Obelisk (Sebrof Extended Remix)
07. Darren Simpson - The Devils Hour
08. John O'Callaghan - Find Yourself (RJ Van Xetten Bootleg)
09. Darren Simpson - Dreams
10. Adam Dixon - U Can Hide (Extended Mix)
11. Jason Nawty, NG Rezonance, Avaxx - Weapon (Extended Mix)
12. Richard Lowe - Strange Times (Extended Mix)
13. Simon Patterson - Up (Extended Mix)
14. Ryan K - Neon21 (Extended Mix)
15. Shugz, Greg Oakland - Acid Time (Original Mix)
19 - Noff - Future Force Takeover on AH.FM 29-10-2023
01. James Dust & Noff feat. Jodie Poye - Lord It's A Feeling (Original Mix)
02. Noff - Hand In Hand (Original Mix)
03. Noff - La Promessa (Original Mix)
04. Noff & BiggyWaWa - Moments Like This (Original Mix)
05. Misja Helsloot with Cari - See the Sun Again (XiJaro & Pitch Remix)
06. FAWZY - Enchanting Colors (A.R.D.I. Extended Remix)
07. Feel & Diana Leah - Out Of Life (Sunset Extended Remix)
08. Noff - Earth Angels (Original Mix)
09. Temple One, Sarah Lynn - Show Me The Stars (Dub Mix)
10. Force Majeure - Out Of My Mind (Daniel Skyver Extended Remix)
11. Alfa - Sacrosanct (Noff Remix)
12. James Dust & Noff feat. Jodie Poye - I Didn't Know I Was Looking for Love (Original Mix)
20 - Miditekk - Future Force Takeover on AH.FM 29-10-2023
01. Donna Summer - I feel love (Effective Remix)
02. Scot Project - G2 (Good Times) (Extended Mix)
03. David Forbes - Dreamstate (Extended Mix)
04. Steve Hill & Technikal - Another Chance (Extended Mix)
05. Miditekk - ((Prefer to be ID))
06. Miditekk - Changing Times
07. Pink - Trustfall (Miditekk Remix)
08. Miditekk - Love Story
09. The Cracken - Aphrodisiac (Extended Mix)
10. Talla 2XLC & Gid Sedgwick - Forever Young (Extended Mix)
11. Miditekk - Slow The World Down (Extendted Mix)
21 - Chris Diesel - Future Force Recordings Takeover on AH.FM 29-10-2023
01. Syntouch & Blue Moon - Korean Romance (Sergey Salekhov Remix)
02. Chris Diesel & Jason Gray - Unity [24bit Master v2]
03. LawLess - Make Me New (Fade Away) (Extended Mix)
04. Daniel Skyver and Kenny Palmer - Darkness Fades Into Light
05. Boski - Rainbows and Gold
06. 0Gravity - Edge of Space (Extended Mix)
07. Angelus - Heart Medicine
08. Kenny Palmer - Raven Hill (Metta & Glyde Remix)
09. Technikal feat. Teal - Ultrasonik
10. Artena - The Depature
11. Daniel Skyver - 1882
12. Chris Raynor - Final Lap (Extended Mix)
Last edited: