Various Artists - Ibiza Sampler 2010 (Jetlag Digital)
featuring: Lemon8, Shane, Hyline & Jaybeetrax, Oliver Moldan, Peter Martin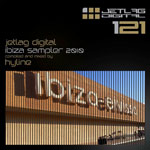 https://www.beatport.com/en-US/html/content/release/detail/260126/ibiza_sampler_2010
A massive project for the Jetlag Digital crew sees it's release this week. A
total of 28 tracks and 2 full 90 minute mixes all compiled and put together
by Hyline. The individual tracks available for download here are simply
staggering. Some of the finest moments from Jetlag's recent catalog as
well as some exclusive never before released remixes and forthcoming
material as well. Some standouts from the unreleased material include
the Lemon8 remix of Oliver Molden's Nocturn, Peter Martin's Remix of
Relaunch's 'Clear View', Def Digital's remix of Felix Stone's 'In This World'
and the Hyline & Jaybeetrax remix of Raf Fender's 'Beat Hunter'.
Hyline's two DJ mixes here are absolutely incredible, there is a 'Club Mix'
and a 'Beach Mix' to choose from. The club mix really typifies the Jetlag
sound quite well, dark, driving progressive house that is made for the
dancefloor. After the groove of the mix is firmly in place some melodies
are brought into the mix to really send the proceedings into overdrive. A
real take no prisoners approach and amazing energy throughout the mix,
the highlight for us on this mix is Hypnotic Duo's 'Eeeah' with it's perfect
club groove, this track enjoyed a lengthy stay in Beatport's top 100 so if
you missed it the first time it is also available for individual download on
this massive pack!
Hyline's 'Beach Mix' is exactly that, perfect for a seaside atmosphere but
make no mistake also a club dancefloor. This mix starts of with a bit of a
deeper vibe and then at around the 12 minute mark you begin to hear the
magic happen. Beautiful melodies and gorgeous atmospheres begin
fading into the mix and your senses immediately elevate. The transitions
between tracks are silky smooth and mixed to perfection by Hyline. It's
clear that he is led by pure emotion as classy vocals make their way into
the mix the euphoria and good vibes are sky high. It's also very evident
from listening to these two mixes that Jetlag as a label and also Hyline as
a DJ have found a nice middle ground between the darker more european
progressive sounds and the more accessible melodic house sound which
is one of many reasons Jetlag's stock is rising at an alarming rate in 2010!
homepage:
::: Jetlag Digital :::
Youtube Channel:
YouTube - jetlagdigitalcom's Channel
myspace:
Jetlag Digital on MySpace Music - Free Streaming MP3s, Pictures & Music Downloads
Facebook:
Jetlag Digital | Facebook
Twitter:
Jetlag Digital (Jetlag_Digital) on Twitter