KRUSH
@ A Secret East London Location
Saturday April 23rd
Tickets:
__________
RA Tickets: Krush with Konrad Black, Michel Cleis, Nick Maleedy at TBA - East London, London
Our launch night on March 19 was crowned with success thanks to your radiant love, thrilling smiles and incessant dance.
We thank you form the bottom of our heart and we are working harder to make our second party even better.
On
April 23
we are going to convert a
secret east London
location into the 'home' of our second installment, inviting once more the exceptionally skilled artist Vincent Desforges to create the exclusive con...tinuation to our 'Home' installation, while artists of first class status will be occupying our Funktion One sound systems. This is how we imagine a perfect night out (or 'in' so to speak). Come on down, share with us the warm and blistering exhilaration. Welcome to Krush!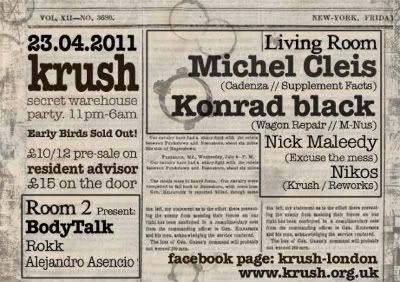 Into our 'Living room' we have:
MICHEL CLEIS:
______________
In the space of three years Michel Cleis went from anonymity to becoming one of the most in-demand artist globally thanks to a tune called 'La Mezcla'. Back in 2008 Luciano heard a track that defied categorization. A sinuous blend of Latin rhythms, tribal drums and an unforgettable Spanish vocal, it didn't 'fit' anywhere except Cadenza. The best selling record brought international audiences closer to Michel Cleis's inimitable styling.
From that point forth his career took its natural course. Michel Cleis is now championing the decks of the most prestigious club from Berlin to Ibiza and from Japan to the US.
KONRAD BLACK:
_____________________
Time has accelerated ten-fold for Konrad over the last five years since the dark, shadowy tones of "Draconia" & "Medusa Smile" enveloped dancefloors around the Globe, christening his influencial Wagon Repair label in style as well as establishing him as a highly innovative producer and much sought after remixer (just check out his work for Tiga, Snax, Audion and Martini Brös if further proof is required).
...like dreaming darkly on a sunny day. There's certainly a Byronesque quality to Black, a perpetual struggle between external light and inner darkness that unearths moments of beauty in the darkest corners of our collective consciousness. But fortune seems to favour the brave and it's with this firmly in mind that he leads the crowd through the night towards another Berlin sunrise.
NIKOS:
___________
Greece's Rework's festival hasn't gone unnoticed in recent years, being ranked among the best festivals in the world by Resident Advisor. Remember regularirregular at Tbar? Well, this man is behind both Reworks (founding member and xCreative director) and regularirregular. London based Nikos is Krush's resident – a man who has played alongside many of the industry's high rollers in his time such as Sven Vath, Ricardo Villalobos, Steve Bug, Joris Voorn and Tiefschwarz just to name a few.
NICK MALEEDY:
____________________
Nick Maleedy's altruistic fascination with electronic music saw him quickly wean an instinctive ear on a diet of dark and dubby house and develop a sound and style that reeks of moody, intelligent and experimental flavor. This intriguing sound, melded with his refined and unassuming manner makes for an interesting ambience and even more interesting dance-floor experience whenever his sets hit the room.
Restless by nature, Nick is currently diving deep into the realms of production, where he's thrown out the book and is quietly making imminent sounds from within.
Room 2 presents BODYTALK:
____________________________
ROKK:
_________
A former resident DJ at The Cock, London alongside Princess Julia and Tasty Tim in 2000 and more recently of Boombox, the now legendary east London fashion party monster. Rokk now resides at monthly club night Body Talk at Dalston Superstore, London. Touring globally with both COCK and Boombox over the past 10 years Rokk has his name stamped on some of London's hottest underground homo hotspots. A regular guest at London club nights Trailertrash, Caligula, Hot Boy Dancing Spot and has provided dj support to Swedish singer Robyn and Monarchy. A collab with Monarchy's Andrew Friendly resulted in a fine re-work of Snap's Rhythm Is A Dancer released on Gulp Recordings. Now signed to FRESHIT Recs Rokk releases 2 Ep's later this year with an album to follow in 2012.
Previously employed as an A&R man for Parlophone Records Rokk also commissioned Remixes for Gorillaz, Supergrass, Jamelia, Lily Allen, Pet Shop Boys, Queen and Kylie. Having remixed Kylie a generous 3 times with fellow dj/producer Pixel 82 and producing a fine bootleg for Robyn this year, he's now in the studio working on his own material to be released in 2011. Maintaining firm feet on both the fashion and music scenes Rokk has been working with Fashion designer Marios Schwab for the past 6 seasons, producing music for his London shows. Robyn has named her recent album after his club night Body Talk and they have also hinted at working together more next year. In what capacity we'll have to wait and see.
ALEJANDRO ASENCIO:
_______________________
At present, Alejandro runs Luna 42, a monthly radio broadcast with his Lucky Cloud
Sound System crew with whom he also helps set up London's legendary Loft Parties.
He is also behind one of London's most unique events, Pelucas y Tacones, a bi-monthly party -now on its fifth successful year- that explores Spain's dance music and queer counter cultural movements of the last 30 years, hotly tipped by Time Out's critics amongst other magazines and even featured on a TV show.
Info:
_______
Untitled Document
Tickets:
______________
RA Tickets: Krush with Konrad Black, Michel Cleis, Nick Maleedy at TBA - East London, London
Make yourselves at home