Joined

Mar 25, 2010
Messages

991
Reaction score

0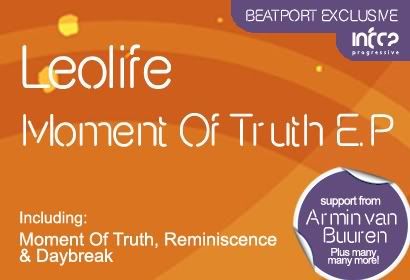 New comers Leolife debut on InfraProgressive with one of the best EP's on the label to date.
Produced with a dance floor firmly in mind, all tracks are packed to the brim with lovely melodies, warm bass patterns and intelligent percussion.
The classy Moment Of Truth adds a big room feel to the package with its thumping bottom end and summer style lead just two of the highlights, while the house laden Reminiscence and Daylight serve up something a little different, making this a great all rounder.
Sweet progression from a duo on the rise!
Radio/Dj Support:
Armin, John Askew, Nitrous Oxide, Tritonal, Bobina, Dash Berlin, Duderstadt, Arctic Moon, 7 Skies, Dj Ange, Andrelli & Blue, Ferry Tayle, Sophie Sugar, Steve Anderson, Sebastian Brandt, Ashley Wallbridge, Setrise, Bjorn Akesson, Sequentia, Agnelli & Nelson, Jon O'Bir, Danjo & Style, Pedro Del Mar, Mark Eteson, Cold Blue, Manuel Le Saux, Talla XL, Duende, Suncatcher, Steve Brian, Ernesto & Bastian, M.I.K.E, Daniel Kandi, Jorn Van Deynhoven, XGenic, Ruben De Ronde, Fast Distance, Vast Vision, The Flyers & Mike Sonar, Haris C, Michael Angelo, Sneijder plus many many more..........
Tracklist:
01. Leolife - Moment Of Truth
YouTube - Leolife - Moment Of Truth
02. Leolife - Reminiscence
YouTube - Leolife - Reminiscence
03. Leolife - Daybreak
YouTube - Leolife - Daybreak
OUT NOW exclusively at Beatport:
http://bit.ly/fizPEq
_____________________________
For all info and release dates please visit:
www.infrasonicrecordings.com
Infrasonic Music | Facebook
YouTube - InfrasonicRec's Channel
InfrasonicRecordings (InfrasonicRec) on Twitter
Infrasonic Recordings | twitter.com/InfrasonicRec | Free Music, Tour Dates, Photos, Videos