Joined

Feb 23, 2007
Messages

106
Reaction score

0
LIKE Silk Music:
http://facebook.com/SilkMusic
SUBSCRIBE to Silk Music:
http://bit.ly/SilkYouTube
Samples & Purchase:
Beatport:
http://bit.ly/SilkSofa
iTunes:
http://bit.ly/SILKSF069-iTunes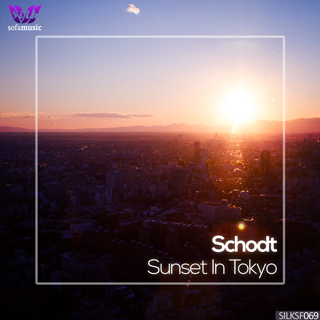 Danish veteran Schodt recently showcased his acclaimed debut artist album on Silk Royal, as well as additional single releases on the same label. His last appearence on Silk Sofa was with his "Moviola" EP, and now he's ready with "Sunset In Tokyo", which includes three inspiring downtempo cuts.
"Waiting" includes several well-crafted and soothing melodies, and a unique breakbeat creates the foundation of the groove. The piano line and intermittent vocal effects provide additional texture to the intriguing soundscape. The title track, "Sunset In Tokyo", starts out with mesmerizing bell melodies, and an enjoyable soundscape is quickly established. Smooth percussion elements and sweeping sound effects also help captivate the listener. Lastly, "Yours Truly" includes calm and blissful melodies, accompanied by lush percussion lines, high piano notes, and intriguing string layers.
Info:
Cat#: SILKSF069
Beatport release date: December 5th, 2013
iTunes release date: December 19th, 2013
Genre: downtempo, chillout
Format: digital
Stores: Beatport, iTunes, JunoDownload
Tracklist & YouTube Previews:
Feedback:
Paul Oakenfold, Solarstone, Dash Berlin, Jaytech, Stephen J. Kroos, Kenneth Thomas, Max Graham, Ad Brown, Myon & Shane 54, Shawn Mitiska, Abdomen Burst, Soarsweep / Smooth Stab, Braak, SNR, Deepsense, Matt Fax, Aeron Aether, East Cafe, Peter Illias, Gai Barone, Flash Brothers, Yuriy From Russia, James Warren, Wahed Achterberg, MATAMAR DJs, davehart
Artist Info:
Schodt:
https://soundcloud.com/schodt
For More Information:
Facebook:
http://facebook.com/SilkMusic
YouTube:
http://youtube.com/user/SilkMusicChannel
Twitter:
http://twitter.com/SilkMusic
SoundCloud:
http://soundcloud.com/SilkMusic
Google+:
http://gplus.to/SilkMusic
Silk Royal Showcase:
http://silkroyalshowcase.com
Photography:
Photographer: Tom Lau
Website:
http://www.flickr.com/photos/soujo