LIKE Silk Music:
http://www.facebook.com/SilkMusic
Samples & Purchase:
Beatport:
http://bit.ly/SilkRoyal
iTunes:
http://bit.ly/SILKRL050-iTunes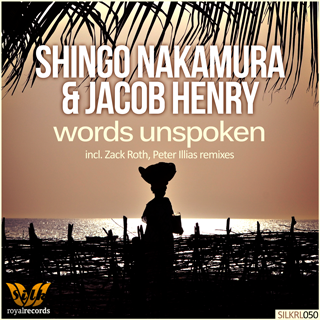 For its milestone 50th release, Silk Royal label manager Jacob Henry has teamed up with internationally acclaimed label fixture Shingo Nakamura on "Words Unspoken". Jacob introduced the track earlier this year on his own Silk Royal Showcase 03 compilation, albeit in mixed form. Shingo, meanwhile, continues to assault the Beatport progressive house and trance charts with his intricate, melodic, and often club-oriented compositions. American producer-DJ extraordinaire Zack Roth and Slovakian veteran Peter Illias are also along for the ride, and their visionary remixes deserve equal recognition.
The Original Mix begins with a furious rhythm section and a trance-influenced bassline, which centers the track in pure peak-hour territory. A delicate arp and repeating piano motif combine with rich pads for full midrange support. Suddenly, at the quarter turn, we are met by the main vocal theme, an evocative tribal chant. The "words" are mysterious, but the unspoken message seems to be conveyed nonetheless. In the main break, a deeply emotive string theme is introduced, which combines with the vocal themes to enhance the emotionally resonant, African-inspired soundscape.
Zack Roth, the celebrated American producer & DJ, continues to achieve great acclaim not only for his peak-hour sets at major NYC venues, but also for boundary-pushing productions; more specifically, his recent work has received radio support by Above & Beyond, Paul Oakenfold, and more. His interpretation begins with a buoyant groove, soon followed by evocative pads and a dancing arpeggio. The track takes off at the quarter turn, as the main bassline explodes through the mix, while various melodic layers rest delicately above. The deep, peak-hour progressive trance sound is reminiscent of the "vintage" era of the genre, which Zack is known to evoke in his live sets. The emotional atmosphere continues to crescendo, reaching a triumphant climax in the main break, followed by a killer drop.
Peter Illias, whose last single on Silk Royal, "Let Me Be", was supported on radio by Above & Beyond and many more, returns to our imprint with an energetic and richly emotive take. From the very beginning, Peter augments the evocative African influences in the song; he adds additional tribal vox effects, as well as a haunting pad progression. Meanwhile, a punchy, yet deep bassline groove adds plenty of power to the rhythm section. The most memorable moment in the track is perhaps the second of two extended breaks, in which Peter treats us to a variety of new vocal effects, which coalesce brilliantly with the moody and primitive atmosphere.
Info:
Cat#: SILKRL050
Beatport release date: July 8th, 2013
iTunes release date: July 22nd, 2013
Genre: progressive house, progressive trance
Format: digital
Stores: Beatport, iTunes, JunoDownload
Tracklist & YouTube Previews:
01 Shingo Nakamura & Jacob Henry - Words Unspoken (Original Mix)
02 Shingo Nakamura & Jacob Henry - Words Unspoken (Zack Roth Remix)
03 Shingo Nakamura & Jacob Henry - Words Unspoken (Peter Illias Remix)
Feedback:
Johan Vilborg, Blood Groove & Kikis, Shawn Mitiska, Blake Jarrell, Nigel Good, Jaytech, Peter Illias, Marcus Schossow, Above & Beyond, Tjerk Coers, Ruben de Ronde, Mike Shiver, Johan Nilsson, Aruna, Ad Brown, Reimu, Vadim Soloviev, Faskil, meHiLove, James Warren, Marsh, Daniel Kandi
Artist Info:
http://soundcloud.com/shingonakamura
http://soundcloud.com/jacob-henry
For More Information:
Facebook:
http://facebook.com/SilkMusic
YouTube:
http://youtube.com/user/SilkMusicChannel
Twitter:
http://twitter.com/SilkMusic
SoundCloud:
http://soundcloud.com/SilkMusic
Silk Royal Showcase:
http://silkroyalshowcase.com
Last edited: