LIKE Silk Music:
http://facebook.com/SilkMusic
SUBSCRIBE to Silk Music:
http://bit.ly/SilkYouTube
Samples & Purchase:
Beatport:
http://bit.ly/SilkRoyal
iTunes:
http://smarturl.it/SILKRL061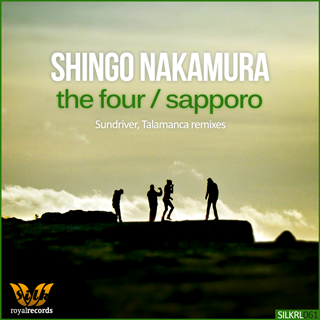 Globally acclaimed talent Shingo Nakamura recently released his "Only Silk 02" compilation on parent label Silk Digital, featuring his original track "The Four". On Silk Royal's latest single, we're thrilled to present a new remix of this cut by Sundriver, another of our imprint's most decorated veterans. He has been writing euphoric, often Balearic-tinged progressive for the better part of a decade and looks forward to an exciting 2014, with several standout remixes arriving in the new few months alone. For the second track in the release, we've invited fellow progressive trance craftsman Talamanca, a first-time contributor to Silk, to remix Shingo's classic "Sapporo". Talamanca, like Sundriver, has enjoyed wonderful radio support in his career on some of the world's leading trance-centered radio shows.
Sundriver's remix of "The Four" asserts itself right out of the gate, with a driving rhythm, while uplifting pads and arps begin to infiltrate the mid-range. By the quarter turn, a symphony of melodic elements has conspired to overpower the listener with a lush and emotive soundscape. Yet, the track highlight does not occur until the break, when we are truly swept away by a light breakbeat, coupled with a mellifluous, Ibiza-influenced guitar riff. The stunning drop to follow features all of the melodic layers in harmonic unison.
Dutch talent Talamanca also starts his remix of "Sapporo" in driving fashion. We are soon met by several of the original's most memorable themes. Talamanca succeeds in making this interpretation his own by contributing numerous new variations on the lead motifs, all of which are truly breath-taking. In the main break, a powerful, trance-influenced lead is introduced, giving his take a bit of extra muscle for the dancefloor.
Info:
Cat#: SILKRL061
Beatport release date: March 17th, 2014
iTunes release date: March 31st, 2014
Genre: progressive house, trance
Format: digital
Stores: Beatport, iTunes, JunoDownload
Tracklist & YouTube Previews:
01 Shingo Nakamura - The Four (Sundriver Remix)
02 Shingo Nakamura - Sapporo (Talamanca Remix)
Feedback:
Jacob Henry, Shawn Mitiska, Ad Brown, Solarstone, Johan Nilsson, Kenneth Thomas, Blood Groove & Kikis, Ruben de Ronde, Gorm Sørensen, Jaytech, Tjerk Coers
Artist Info:
Shingo Nakamura:
http://soundcloud.com/shingonakamura
Sundriver:
http://soundcloud.com/sundriver
Talamanca:
http://soundcloud.com/talamanca
For More Information:
Facebook:
http://facebook.com/SilkMusic
YouTube:
http://youtube.com/user/SilkMusicChannel
Twitter:
http://twitter.com/SilkMusic
SoundCloud:
http://soundcloud.com/SilkMusic
Google+:
http://gplus.to/SilkMusic
Silk Royal Showcase:
http://silkroyalshowcase.com
Only Silk Radio:
http://www.onlysilkradio.com
Photography:
Photographer: Simon Harrod
Website:
http://www.flickr.com/photos/sidibousaid