LIKE Silk Music:
http://www.facebook.com/SilkMusic
SUBSCRIBE to Silk Music:
http://bit.ly/SilkYouTube
Samples & Purchase:
Beatport:
http://bit.ly/SilkDigital
iTunes:
http://bit.ly/SILKAC06-iTunes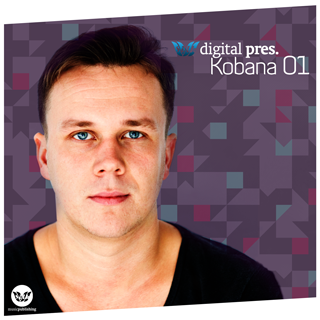 On "Kobana 01", Silk Digital recognizes the amazing contributions of one of the most gifted and celebrated artists on its roster. Kobana, the sensational Polish talent, has garnered an international reputation as a superlative producer and DJ, as he consistently crafts boundary-pushing compositions that not only rock the dancefloor, but also stimulate the ears of the most discerning listeners. His rich and resonant bass has become a renowned artist trademark, as well as the intricate and poignant melodies that imbue his tracks. This compilation features various standout Kobana tracks from the past 5 years: from the radiant and powerful lead track "Hear The Colors" (which inspired Kobana's current radio show of the same name) to his more subdued, tranquil remix of From Tokyo With Love's "Our Hearts Left In The Garden Of Silence". The ten selections on "Kobana 01" showcase the work of one of EDM's great sonic technicians and "poets" of groove and melody.
Info:
Cat#: SILKAC06
Beatport release date: October 8th, 2013
iTunes release date: October 22nd, 2013
Genre: progressive house
Format: digital
Stores: Beatport, iTunes, JunoDownload
Tracklist & YouTube Previews:
01 Kobana - Hear The Colors (Original Mix)
02 Shingo Nakamura - Alice In Wonderland (Kobana & Mario Hatchet Remix)
03 Kobana & Mario Hatchet - Play (Original Mix)
04 G-Tek - Fantastic (Kobana & Mario Hatchet Remix)
05 Derek Howell - Stride (Kobana & Mario Hatchet Remix)
06 Dezza - Let's Go For A Walk (Kobana Remix)
07 Kobana - The First Attempt (Original Mix)
08 Shahin & Bench - Viridian (Kobana Remix)
09 Kobana - Frisky (Original Mix)
10 From Tokyo With Love - Our Hearts Left In The Garden Of Silence (Kobana Remix)
Artist Info:
Kobana:
http://soundcloud.com/kobana
For More Information:
Facebook:
http://facebook.com/SilkMusic
YouTube:
http://youtube.com/user/SilkMusicChannel
Twitter:
http://twitter.com/SilkMusic
SoundCloud:
http://soundcloud.com/SilkMusic
Google+:
http://gplus.to/SilkMusic
Silk Royal Showcase:
http://silkroyalshowcase.com