Joined

Mar 25, 2010
Messages

991
Reaction score

0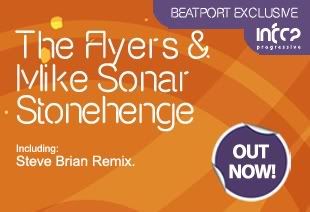 The Flyers and Mike Sonar make a return to InfraProgressive with arguably one of their biggest releases of the year. A trio who need no introduction after a continuous supply of cutting edges releases spanning 3 years, The Flyers & Mike Sonar are at it again with another massive club offering in the shape of Stonehenge.
Remix duties come from Steve Brian who follows up his impressive Arthur Tkachuk remix, with another huge, bass driven re-work, sure to cause some serious turbulence on any dance floor!
These guys can do no wrong!
Radio/Dj Support:
Lange, Tritonal, Alex MORPH, Roger Shah, Aly & Fila, Bobina, Dash Berlin, Duderstadt, Arctic Moon, 7 Skies, Tillmann Uhrmacher, Dj Ange, Andrelli & Blue, Ferry Tayle, Sophie Sugar, Dj Ange, Activa, Med vs Neil Bamford, Steve Anderson, Sebastian Brandt, Ashley Wallbridge, Setrise, Bjorn Akesson, Sequentia, Agnelli & Nelson, Jon O'Bir, Danjo & Style, Pedro Del Mar, Digital Nature, Anhken, Flash Brothers, Estiva, Six Senses, Neal Scarborough, Nitrous Oxide, Ronski Speed, Mark Eteson, Cold Blue, Manuel Le Saux, Talla XL, Duende, Suncatcher, DNS Project, Beat Service, M.I.K.E, Daniel Kandi, Jorn Van Deynhoven, XGenic, Ruben De Ronde, Fast Distance, Vast Vision, Paul Miller, Jonas Hornblad, The Flyers & Mike Sonar, Haris C, Michael Angelo, Sneijder plus many many more..........
Tracklist:
1. The Flyers & Mike Sonar - Stonehenge (Original Mix)
YouTube - The Flyers & Mike Sonar - Stonehenge (Original Mix)
2. The Flyers & Mike Sonar - Stonehenge (Steve Brian Remix)
YouTube - The Flyers & Mike Sonar - Stonehenge (Steve Brian Remix)
OUT NOW exclusively at Beatport: http://bit.ly/esOTxS
_____________________________
For all info and release dates please visit:
Infrasonic Recordings : Home
Infrasonic Music | Facebook
www.youtube.com/infrasonicrec
InfrasonicRecordings (InfrasonicRec) on Twitter
Infrasonic Recordings | twitter.com/InfrasonicRec on Myspace Music - Free Streaming MP3s, Pictures & Music Downloads