LIKE Silk Music:
http://facebook.com/SilkMusic
SUBSCRIBE to Silk Music:
http://bit.ly/SilkYouTube
Samples & Purchase:
Beatport:
http://bit.ly/Arrival-BP
iTunes:
http://smarturl.it/ARR062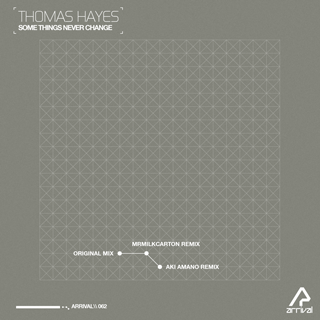 Australian artist Thomas Hayes joins the Arrival roster with "Some Things Never Change", including two remixes by Mrmilkcarton and AKI Amano. We are especially pleased to welcome Thomas Hayes to our label family, whose visionary productions have been receiving tremendous support of late by Armin van Buuren and Above & Beyond.
The Original Mix quickly establishes a firm beat with an intriguing bassline underneath. The soundscape is spiced up with numerous vocal effects, as well as well-crafted sidechained pad layers and a subtle background piano melody. The break showcases the piano in full effect combined with the powerful pads, and later, the hypnotizing theme lead is introduced, which leads the track to its zenith.
Mrmilkcarton (US) returns to Arrival with his interpretation of "Some Things Never Change". A floating atmosphere is introduced, including truly mesmerizing bassline stabs and sweeping pad layers on top. In the break, we are introduced to the extremely powerful theme lead, as well as an additional smooth piano lead. The sound of this lead is varied later, proving a great addition to the various theme riffs.
Japanese artist AKI Amano provides us with the second remix -- it starts out with smooth percussion elements and enjoyable background synth riffs. A delayed piano riff emerges in the break, combined with supporting soothing string lines. The track continues with its lively groove, which is spiced up with lush, intermittent vocal stems.
Info:
Cat#: ARR062
Beatport release date: March 24th, 2014
iTunes release date: April 7th, 2014
Genre: progressive trance, trance, house, progressive house
Format: digital
Stores: Beatport, iTunes, JunoDownload
Tracklist & YouTube Previews:
01 Thomas Hayes - Some Things Never Change (Original Mix)
02 Thomas Hayes - Some Things Never Change (Mrmilkcarton Remix)
03 Thomas Hayes - Some Things Never Change (AKI Amano Remix)
Artist Info:
Thomas Hayes:
http://soundcloud.com/ThomasHayesMusic
Mrmilkcarton:
http://www.soundcloud.com/Mrmilkcarton
AKI Amano:
http://soundcloud.com/aki-amano
For More Information:
Facebook:
http://facebook.com/SilkMusic
YouTube:
http://youtube.com/user/SilkMusicChannel
Twitter:
http://twitter.com/SilkMusic
SoundCloud:
http://soundcloud.com/SilkMusic
Google+:
http://gplus.to/SilkMusic
Silk Royal Showcase:
http://silkroyalshowcase.com