Joined

Mar 25, 2010
Messages

991
Reaction score

0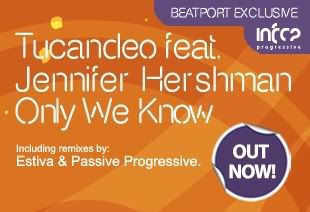 Tucandeo continue their hot streak with another outstanding original in the shape of Only We Know. After picking up support from every trance Dj the world over in recent months, the guys deliver some of their finest work to date, with a super sweet, vocal bomb!
Making his return to Infrasonic, and heading the package is Estiva. Once again the Dutchman supplies a re-work that sits perfectly within the trance and progressive divide, making this another hugely versatile track for Djs and producers alike. More big room material from a producer who continues to supply the industry with outstanding quality!
American producer Passive Progressive completes the package with a silky, house orientated take that oozes class, and really showcases Jennifer's beautiful vocal work.
Top notch progression from our Irish duo!
Radio/Dj Support:
Tritonal, Alex MORPH, Bobina, Dash Berlin, 7 Skies, Tillmann Uhrmacher, Dj Ange, Andrelli & Blue, Ferry Tayle, Sophie Sugar, Steve Anderson, Sebastian Brandt, Ashley Wallbridge, Setrise, Bjorn Akesson, Sequentia, Agnelli & Nelson, Jon O'Bir, Danjo & Style, Pedro Del Mar, Anhken, Flash Brothers, Estiva, Six Senses, Neal Scarborough, Nitrous Oxide, Ronski Speed, Mark Eteson, Cold Blue, Manuel Le Saux, Talla XL, Duende, Suncatcher, Steve Brian, Ernesto & Bastian, M.I.K.E, Daniel Kandi, Jorn Van Deynhoven, XGenic, Ruben De Ronde, Fast Distance, Vast Vision, The Flyers & Mike Sonar plus many many more..........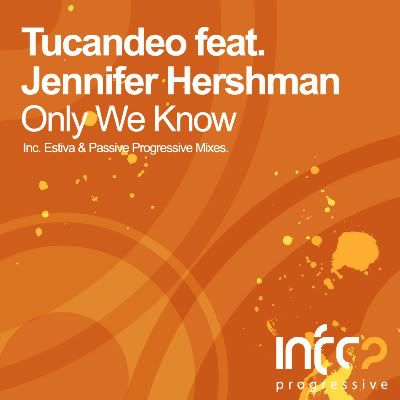 Tracklist:
01. Tucandeo feat. Jennifer Hershman - Only We Know (Original Mix)
02. Tucandeo feat. Jennifer Hershman - Only We Know (Estiva Remix)
03. Tucandeo feat. Jennifer Hershman - Only We Know (Passive Progressive Remix)
04. Tucandeo feat. Jennifer Hershman - Only We Know (Dub Mix)
05. Tucandeo feat. Jennifer Hershman - Only We Know (Passive Progressive Dub)
OUT NOW exclusively at Beatport: http://bit.ly/gcVuwS
_____________________________
For all info and release dates please visit:
Infrasonic Recordings : Home
Infrasonic Music | Facebook
YouTube - InfrasonicRec's Channel
InfrasonicRecordings (InfrasonicRec) on Twitter
Infrasonic Recordings | twitter.com/InfrasonicRec on Myspace Music - Free Streaming MP3s, Pictures & Music Downloads