Universal Language
Registered
Joined

May 6, 2006
Messages

4,208
Reaction score

2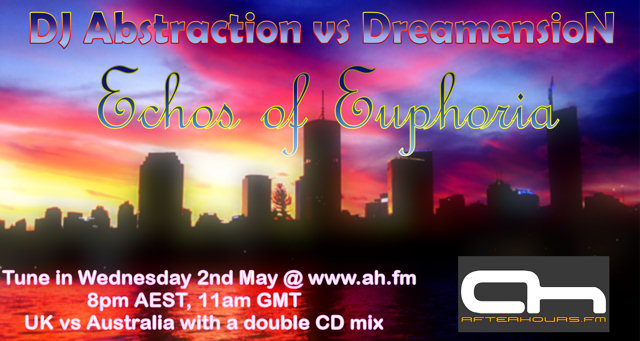 This month on Afterhours.FM, DreamensioN teams up with the UK's own DJ Abstraction to bring you a double CD mix.
The title of this album is "Echos of Euphoria" and will take you through a journey of trance in time.
CD1 (Mixed by DreamensioN) is a mash of melodic vocals, with some minimalistic deep progressive trance. DreamensioN uses some lesser known tracks in this mix, and brings through the occasional tek-trance choon. This isn't the typical "DreamensioN" style of vocal & melodic trance...but is a new experiement in mixing & sound - just for this album.
CD2 (Mixed by DJ Abstraction) is a killer uplifting vocal trance set. This brings you the vibe and energy that is modern day vocal trance. This set is sure to get you arm chair ravers moving.
So tune in - 8pm AEST (or 11am GMT if you're in the UK) on Wed 2nd May 2007!
DJ Abstraction
http://www.myspace.com/djabstraction
DreamensioN
http://www.myspace.com/dreamension
And don't forget folks - its that time of the month again!
http://www.thedjlist.com/vote/?djName=DreamensioN
Global Times for this mix are:
8pm Brisbane/Sydney/Melbourne
7pm Tokyo
6pm Singapore/Beijing
12pm Johannesburg
11am London
6am New York
5am Chicago
3am Seattle/LA