Saturday April 23d - Live Nation & Area Even Present
AXWELL @ Roseland Ballroom
With Thomas Gold + Sleepy & Boo

The Swedish House Mafia superstar AXWELL returns to New York for a massive headlining set at Roseland.
Few artists are bigger right now than the SHM members, and with Axwell's new track "Heart Is King" topping the worldwide dance charts, this is the perfect opportunity to hear Axwell's unique sound and style on Roseland's massive Funktion One sound system. Opening sets from Axtone artist Thomas Gold and Basic NYC's Sleepy & Boo.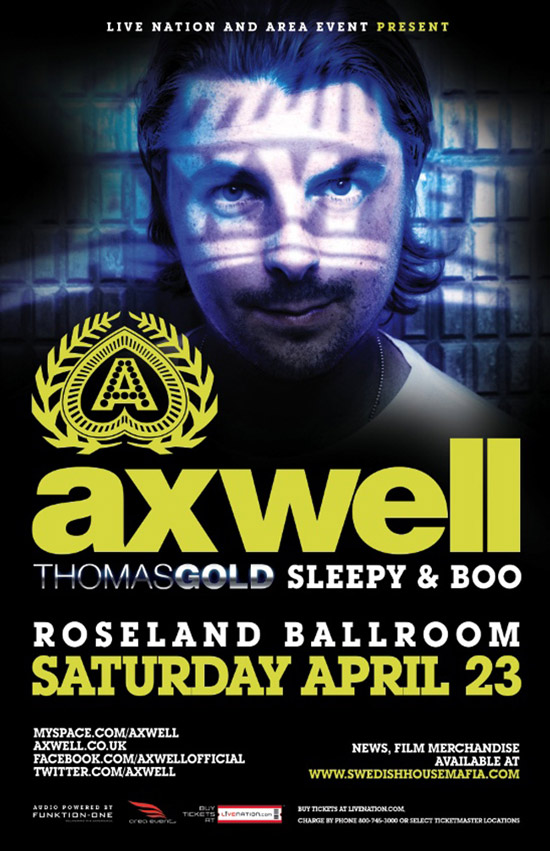 Featuring:
AXWELL
Axtone Records | axwell.co.uk
THOMAS GOLD
Thomas-gold.com
SLEEPY & BOO
Basic NYC | basicnyc.com
We are giving away a pair of tickets to AXWELL at Roseland! To enter to win, email info@basicnyc.com and name the other two members of the Swedish House Mafia.
Presale tickets available:
Ticketmaster:
Tickets | Axwell - New York NY at Ticketmaster
For guest list + VIP info - email rsvp@basicnyc.com
Where:
Roseland Ballroom (239 West 52nd Street)
When:
Saturday, April 23rd (Doors at 8pm)
Price:
For tickets:
Tickets | Axwell - New York NY at Ticketmaster
A X W E L L
Axtone
Concert Tickets and Concert Tour Dates | Official Live Nation Site
BASIC NYC
The Official Swedish House Mafia site