We're very excited to be debuting at one of New England's top venues for electronic music - Hartford CT's ROOM 960!
We'll be throwing down with the club's resident Kered for what promises to be a really fun night. Come join us for some great music - hit up our guest list at
rsvp@basicnyc.com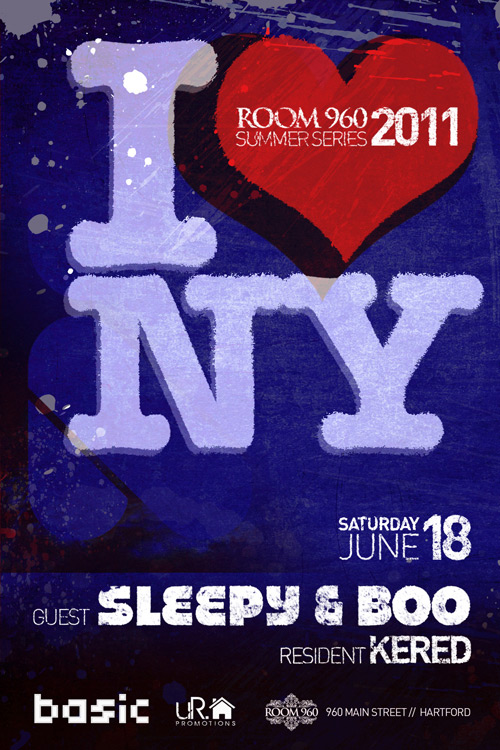 Saturday June 18th

SPECIAL EVENT: I ♥ NY
At ROOM 960
Featuring SLEEPY & BOO (BASIC NYC)

with KERED (opening set)
The city that never sleeps... the Big Apple... Broadway... the glitz, glamor and endless nightlife... Room 960 LOVES NEW YORK!!
Please welcome rising stars Sleepy & Boo for their first ever Room 960 appearance! Known in New York as the leaders in dance music, they've played every New York hot spot from Pacha and Cielo to the legendary Sullivan Room and Roseland Ballroom. They've now found themselves a part of District 36 - a club people are comparing to the legendary Twilo days. Sleepy & Boo have also rocked the Pete Tong pool party in Miami and Space in Ibiza... let's welcome them to Hartford!
Opening is our very own resident Kered. From the Bora Bora club in Ibiza or the sweaty nightclubs of Montreal, Munich and beyond, Kered brings an extra something to any event he's a part of.
GETTING IN:
21 + event
$10 - doors open at 10pm
Open Bar until 11pm
ROOM 960 - Hartford, CT
960 Main Street
Room 960 - Hartford Connecticut's Best Club
VIP RESERVATIONS:
Do the night in style and get one - call 860.522.9960
MORE INFO:
Room 960 - Hartford Connecticut's Best Club
Room 960 (Room960) on Twitter
YouTube - ‪Room960's Channel‬‏
SLEEPY & BOO:
Sleepy & Boo | Facebook
BASIC NYC
Sleepy and Boo (sleepyboo) on Twitter