Saturday June 25 – Sunday June 26th
Giant Step Weekender #1 @ Yotel New York
FREE parties with Louie Vega, Bobbito Garcia, Libation + more

The brand-new YOTEL just opened in New York and is one of the coolest new places to hit NYC.
Giant Step is teaming up with the Yotel to present a monthly weekender of free events, kicking off on Saturday June 25th and running through Sunday June 26th. The special guest for Saturday's party is Louie Vega and more fun music nights are coming soon!!
The party space features a huge outdoor terrace and an inside room with a killer Funktion One sound system.
Entry to these events are free
but you MUST RSVP to
rsvp@basicnyc.com
for our guest list!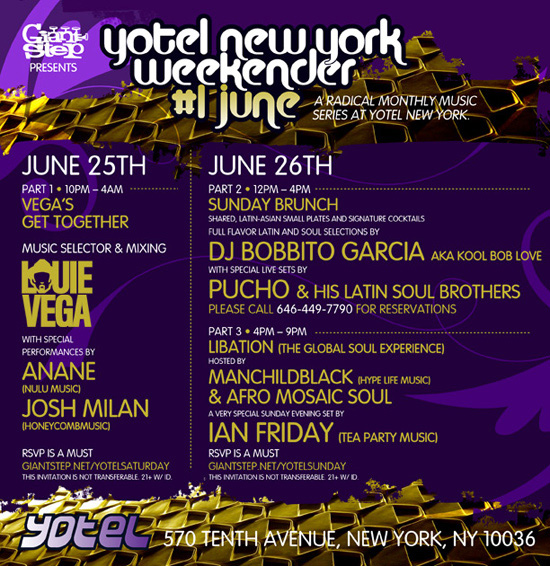 Giant Step and YOTEL New York announce the launch of the radical monthly music series Giant Step presents YOTEL New York Weekenders, taking place the last weekend of the month through November. This new monthly triple-header will bring the best in dance music to the 20,000 square foot public space – FOUR – at YOTEL New York, the largest hotel opening in NYC in 2011.
The weekenders will be a unique party experience in three parts: beginning Saturday evening with a late-night, world-class DJ event, continuing for a Latin themed Sunday brunch and closing the weekend right with an early evening sunset soiree.
Sat, 6/25 10pm-4am:
Louie Vega, plus special guests Anané (Nulu Music) and Josh Milan of Blaze fame.
RSVP is a must
- email
rsvp@basicnyc.com
for list
Sun, 6/26 12pm-4pm:
All you can eat prefix Brunch with music by DJ Bobbito Garcia, and live music by Pucho Brown and His Latin Soul Brothers. Call 646-449-7790 for reservations.
SUNDAY, 6/26 4pm-9pm:
LIBATION w/IAN FRIDAY, hosted by MANCHILDBLACK and AFRO MOSAIC SOUL.
RSVP is a must
- message
rsvp@basicnyc.com
for list
Yotel New York
- 570 10th Avenue btwn 41st & 42nd Streets
New York hotel times square & airport hotels - Yotel
BASIC NYC