Joined

Mar 25, 2010
Messages

991
Reaction score

0
After arriving with a bang at the beginning of the year with his Regulus E.P, American producer Accendo makes the step up from our Future imprint with another massive original in the shape of Memory Lane.
After picking up support on every major radio station the world over we were anticipating great things this time round, and boy did he deliver. Once again the production quality is second to none with an immaculate finish, scintillating plucks and pads, and another big sawing bass pattern at the epicentre, a signature sound Accendo is now becoming known for.
Man of the moment Suncatcher makes a return to the label after the huge success of his Juventa remix which dropped in May. After an action packed year, most of which has been with outstanding original tracks and remixes, he finishes 2010 on a high with another storming remix.
Infrasonic favourite Anhken completes the package and really makes it own with another big room re-work, packed full of quality and signature sounds.
The American is on the money once again!
Radio/Dj Support:
ASOT #485 Support!
Armin van Buuren, Tritonal, Aly & Fila, Alex MORPH, Sean Tyas, John Askew, Roger Shah, Bobina, Dash Berlin, Duderstadt, Arctic Moon, 7 Skies, Tillmann Uhrmacher, Dj Ange, Andrelli & Blue, Ferry Tayle, Sophie Sugar, Steve Anderson, Sebastian Brandt, Ashley Wallbridge, Setrise, Bjorn Akesson, Tritonal, Sequentia, Agnelli & Nelson, Jon O'Bir, Danjo & Style, Pedro Del Mar, Digital Nature, Anhken, Flash Brothers, Estiva, Six Senses, Neal Scarborough, Nitrous Oxide, Ronski Speed, Mark Eteson, Cold Blue, Manuel Le Saux, Talla XL, Duende, Suncatcher, Steve Brian, Ernesto & Bastian, M.I.K.E, Daniel Kandi, Jorn Van Deynhoven, XGenic, Ruben De Ronde, Fast Distance, Vast Vision, Paul Miller, Jonas Hornblad, The Flyers & Mike Sonar, Haris C, Michael Angelo, Sneijder plus many many more..........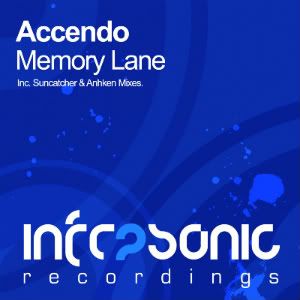 Tracklist:
1. Accendo - Memory Lane (Original Mix)
YouTube - Accendo - Memory Lane (Original Mix)
2. Accendo - Memory Lane (Suncatcher Remix)
YouTube - Accendo - Memory Lane (Suncatcher Remix)
3. Accendo - Memory Lane (Anhken Remix)
YouTube - Accendo - Memory Lane (Anhken Remix)
OUT NOW exclusively at Beatport: http://bit.ly/icrrZJ
_____________________________
For all info and release dates please visit:
Infrasonic Recordings : Home
Infrasonic Music | Facebook
www.youtube.com/infrasonicrec.com
InfrasonicRecordings (InfrasonicRec) on Twitter
Infrasonic Recordings | twitter.com/InfrasonicRec on Myspace Music - Free Streaming MP3s, Pictures & Music Downloads