LIKE Silk Music:
http://facebook.com/SilkMusic
SUBSCRIBE to Silk Music:
http://bit.ly/SilkYouTube
Samples & Purchase:
Beatport:
http://bit.ly/SilkDigital
iTunes:
http://smarturl.it/SILK077
Buy "Wonderland" album:
http://smarturl.it/SILKA009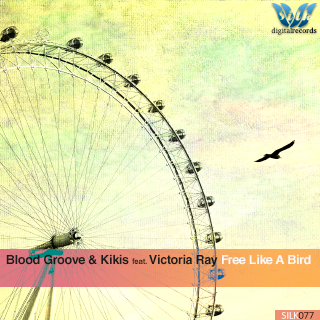 Blood Groove & Kikis return to our parent label with "Free Like A Bird", the triumphant first single from their forthcoming "Wonderland" artist album. Hosts of our Silk Textures radio show, representing our deep house division of the same name, the sensational Latvian duo have proven themselves equally adept at writing peak-hour trance and progressive material over the years. Just recently, Armin van Buuren supported their remix of 19 Hz's "Another Skin" during his "A State of Trance #650" Tour, and they have also been featured on Above & Beyond's "Group Therapy" on various occasions in recent months. Their latest single also features the gorgeous vocals of Victoria Ray, a first-time contributor to our imprint.
In the early going, a steady bassline groove provides firm footing for a poignant piano theme and a variety of uplifting pads. It doesn't take long for a mellifluous soundscape to set the stage for the introduction of Victoria Ray's ethereal lead hook: "I'm like a free bird, flying over the sky". Her stunning voice is given the full spotlight in the breakdown, along with the many melodic layers and themes, which only strengthen the atmospheric quality of Victoria's voice. The drop to follow offers a truly euphoric catharsis for the listener.
Info:
Cat#: SILK077
Beatport release date: March 11th, 2014
iTunes release date: March 25th, 2014
Genre: progressive house
Format: digital
Stores: Beatport, iTunes, JunoDownload
Tracklist & YouTube Previews:
01 Blood Groove & Kikis feat. Victoria Ray - Free Like A Bird (Original Vocal Mix)
02 Blood Groove & Kikis feat. Victoria Ray - Free Like A Bird (Original Dub Mix)
Feedback:
Kenneth Thomas, Shawn Mitiska, Ruben De Ronde, Johan Nilsson, Blake Jarrell, Gorm Sørensen, Pedro Del Mar, Tjerk Coers, Shingo Nakamura, Ad Brown, Tom Fall, Jaytech, Matt Fax, Vitodito, James Warren, Dynamic Illusion, Vadim Soloviev, Steve Anderson
Artist Info:
Blood Groove & Kikis:
http://soundcloud.com/bloodgroove-kikis
Victoria Ray:
http://soundcloud.com/victoria-ray
For More Information:
Facebook:
http://facebook.com/SilkMusic
YouTube:
http://youtube.com/user/SilkMusicChannel
Twitter:
http://twitter.com/SilkMusic
SoundCloud:
http://soundcloud.com/SilkMusic
Google+:
http://gplus.to/SilkMusic
Silk Royal Showcase:
http://silkroyalshowcase.com
Only Silk Radio:
http://www.onlysilkradio.com