After a short break we return for another amazing night out in Sheffield, 3 major parties over 3 venues, from 6pm on Boxing Day right throught 12pm the day after. If there much demand then The Howard Promo will alsot host a 4th after party from 12pm just like the old days when Insomniacz was on. A full on 24 hour party. With some top class djs and producers from major lables and brands will be hitting the decks with a musical bang. The Howard Pre Party will most certanly have a mix of both big names and giving up and coming djs a chance. First we will be starting off with The Howard Trance Night Pre Party at ts new venue Bar Oneninetwo, then straight into Gatecrasher which is now at the old Kingdom night club, near the City Hall, which is now called Area. Then blast from the past, Stimulate is now back as an after party for those die hard clubbers that just wana party till they drop. Stimuate will be held at the famous leadmill. Which is perfect for an after party. Its not to far from train station. I dont know about you but i cant wait. Lets make this one big night and day to remember. For any one whos wanting to dj for me in 2017, please bring your demo on cd and with a bio would be better. Please hand into to me at The Howard Trance Night Pre Party at Oneninetwo.

The Howard Trance Night Pre Party @ Bar Oneninetwo
B4 Gatecrasher Boxing Day @ Area!
Monday 26th Dec 2016, 6pm - 11pm £3
▬▬▬▬▬▬▬▬▬▬▬▬▬▬▬▬▬▬▬▬
Nick Sentience - Armada / Subculture
Paul Pearson - Perfecto
Nick Beard - Agenda
Kelley & James - The Howard
▬▬▬▬▬▬▬▬▬▬▬▬▬▬▬▬▬▬▬▬
Please note - We are no longer at The Howard Hotel
Our new home
@ Bar Oneninetwo, Shoreham St, Sheffield, S1 4SQ
By The Howards Of Sheffield - Thanks for your continued support!

▬▬▬▬▬▬▬▬▬▬▬▬▬▬▬▬▬▬▬▬
Crasher Tickets At Skiddle-
http://www.gatecrasher.com/tickets/
▬▬▬▬▬▬▬▬▬▬▬▬▬▬▬▬▬▬▬▬
Web -
http://www.thehowardpromotions.com/
http://www.gatecrasher.com/
https://www.armadamusic.com/
http://perfectorecords.net/
▬▬▬▬▬▬▬▬▬▬▬▬▬▬▬▬▬▬▬▬
Keep an eye out for this months guests djing at these events -
Nick Sentience -
https://www.facebook.com/nicksentience.music/
Agenda -
https://www.facebook.com/groups/agendatrance/
Paul Pearson -
http://www.paulpearsonmusic.com/
Nick Beard -
https://www.mixcloud.com/Djnickbeard/agenda-trance-mix/
David James -
https://www.facebook.com/David-James-DJProducer-216172202075730/
▬▬▬▬▬▬▬▬▬▬▬▬▬▬▬▬▬▬▬▬
Demo's - Mixes - Productions - Dj Profiles - Lets us know!
▬▬▬▬▬▬▬▬▬▬▬▬▬▬▬▬▬▬▬▬
Set Times Tba
6pm - 10.30pm - To finish
▬▬▬▬▬▬▬▬▬▬▬▬▬▬▬▬▬▬▬▬
Productions Out Now -
?
▬▬▬▬▬▬▬▬▬▬▬▬▬▬▬▬▬▬▬▬
Hotels -
The Northfolk Arms - Premier Inn - Rutland Hotel - Hilton Hotel
▬▬▬▬▬▬▬▬▬▬▬▬▬▬▬▬▬▬▬▬
Taxis -
City Taxis 0114 239 3939
Alpha 0114 239 3939
Murcury 0114 266 2662
Ive asked some Taxi firms to pass by
Oneninetwo from 10pm onwards
▬▬▬▬▬▬▬▬▬▬▬▬▬▬▬▬▬▬▬▬
Travel -
Keep going past the train station on the A69 Shoreham street,
past Red Tape Studios 'by foot' or if you driving follow the ring
road past Macdonalds, as if you was going to the old crasher- use you nogging! Or last resort use a sat nav, please plan your route!
If your getting a train its a -5-7min walk and there laods of bacl cabs put the train station.
Train Station info line
http://www.nationalrail.co.uk/
https://www.google.co.uk/maps
▬▬▬▬▬▬▬▬▬▬▬▬▬▬▬▬▬▬▬▬
KEEP AN EYE OUT FOR OUR NEXT PRE PARTY TBA
NEXT YEAR - WITH DJS FROM ALL OVER THE COUNTRY
▬▬▬▬▬▬▬▬▬▬▬▬▬▬▬▬▬▬▬▬
Then onto ---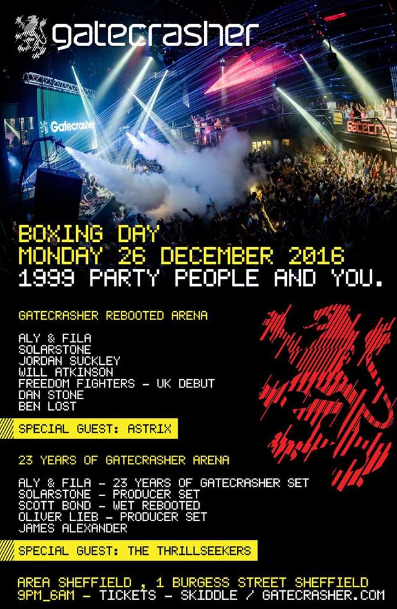 Gatecrasher - Boxing Day
Monday 26 December
Area Sheffield 10pm – 6am
Gatecrasher REBOOTED Arena
Aly & Fila
Solarstone
Jordan Suckley
Will Atkinson
Freedom Fighters (UK Debut)
Dan Stone
Ben lost
Special Guest Astrix
23 Years of Gatecrasher Arena
Aly & fila (23 Years Of Gatecrasher Set)
Solarstone (Producer set)
Scott Bond (Wet REBOOTED)
Oliver Lieb (Producer set)
James Alexander
Special Guest The Thrillseekers
Gatecrahsers event page
https://www.facebook.com/events/1960570864169899/