Joined

May 26, 2006
Messages

1,503
Reaction score

0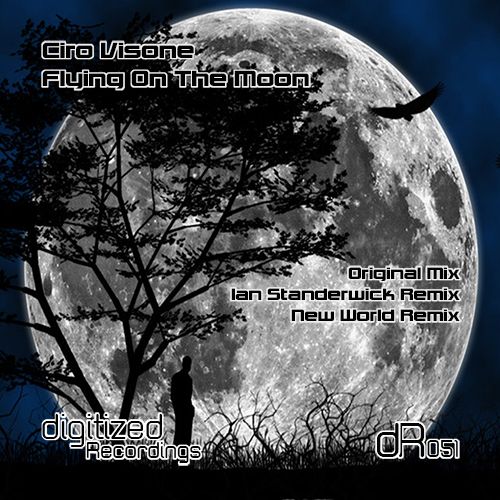 DR051 Ciro Visone - Flying On The Moon
Original Mix
Ian Standerwick Remix
New World Remix
Beatport exclusive - OUT NOW Click link below to purchase:
http://www.beatport.com/release/flying-on-the-moon/1150099
Worldwide release - 30th September 2013
Ciro Visone returns to Digitized with his uplifter 'Flying On The Moon'. The track is his classic uplifting style and won't disappoint fans of his work.
Remixes come from Ian Standerwick and New World. Ian is on fire at the minute as is New World so as you will expect the remixes are huge.
The release has seen massive support from Armin Van Buuren, Aly & Fila, Giuseppe Ottaviani, Photographer, Manuel Le Saux, William Daniel, Lazarus, Jon Martin, Ascania, Tangle, Talla 2XLC, Zirens, Indecent Noise, Dave Deen, Rob Van Arden, Chris Cockerill, Lost Witness, Gav Pilling, Paul Holden, Gareth Weston, Kara Sun, Karybde And Scylla, Akeni, Angel Ace, Touchstone, Neil Bamford, Suzy Solar, Estigma, Ozzy XPM, Physical Phase, Hughes & Ballantine, Suprano, Simon Bostock, Bluehawk, Ollie Jaye, Chaim Mankoff, North Pole, Dave Horne, Glynn Alan, Barry Duffy, XiJaro, El Haag Martin, Lee Thompson, Chapter XJ, Victor Prada, Bryan Summerville, Mike Rodas, Dean Thomas, Odonbat, Paul Todd, El Jay, Rya, Laura May, Harvey Whiteley, Tom Yelland, David McRae, Abora Radio, Zutt Muziker, Curtis & Craig, Nick the kid, M.I.K.E. (Push), Tasso, Andy Mac, Justin Grimes, Space Garden, Above The Clouds, Daniel Skyver, Richie Alexander, Magdelayna, tranzLift, Mark Winstanley, Iversoon & Alex Daf, Steve Allen, Amitacek, Katy Rutkovski, Phalanx and Paul Pearson.
Enjoy the release.
Soundcloud link to hear previews:
http://soundcloud.com/digitized-recordings/sets/dr051-ciro-visone-flying-on-1