Joined

Mar 25, 2010
Messages

991
Reaction score

0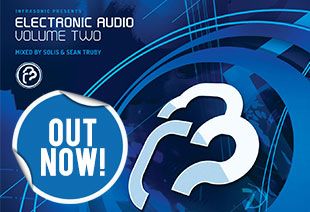 OUT NOW get your copy here:
http://www.infrasonicrecordings.com/products/1251
BUY from Beatport:
http://www.beatport.com/release/electronic-audio-vol-two/1260790
'Arguably one of the world's most exciting, new trance labels' (Mixmag) supply the second addition of their 'must have' compilation series: 'Electronic Audio'. Mixed by label stalwarts Solis & Sean Truby, 'Electronic Audio Volume Two' features 29 exclusive tracks which are once again mashed, sliced and reworked into an exhilarating mix.
The world has been waiting with bated breath for 'One of the best labels in the world right now' (Armin van Buuren) to follow up and redeliver its second instalment of its hotly acclaimed compilation series, and finally the wait is over!
As one of the world's most forward thinking labels, with a robust and ever expanding stable of labels, it's no surprise that Solis & Sean Truby have had their work cut out to come up with a selection of tracks that defines the character and direction the label is heading in.
True to their word and whom have demonstrated they have their finger on the pulse when it comes to picking the cream of the crop, Solis & Sean Truby bring us exciting prospects such as Aku & Ghazaly with the lush sounds of 'Samurai', as well as the club destroying 'Bingo' from Sunny Lax and the monstrous new collab from Solis & Sean Truby with Harry Square entitled 'Bottleneck'.
Cranking up the BPM's as we progress through this hot mix, label superstars such as Ultimate, Andy Tau, Dimension and Colonial One all make an appearance, plus the clinical production skills of Meridian and the awesome 'All In' and the mighty sounds of UCast with 'Teanary' all feature.
The world is about to get its wake up call as Infrasonic showcases some of its raw and upcoming talent that it currently housed across the stable. Solis & Sean Truby have effortlessly taken the Electronic Audio brand to the next level, and the trance family are for sure going to appreciate the different electronic nuances throughout their pin point mix.
Tracklist:
01. Solis & Sean Truby feat. Sue McLaren – Closer To The Earth (Vitodito's Electronic Audio Intro)
02. Santerna – Attraction
03. Solis & Sean Truby – Racoon (Rob Naylor Remix)
04. Garrido & Hanski feat. Erin – Run (EDU Remix)
05. Tepes – When Things Go Wrong
06. Simon J – Blazer
07. Solis & Sean Truby vs. Harry Square – Bottleneck
08. Sunny Lax – Bingo
09. Darkployers – Do It!
10. Vitodito & Talamanca – Calle Betis
11. Hanski feat. Simon Latham – A Better Way
12. Aku & Ghazaly – Samurai
13. Andy Tau – Arrivals
14. Thomas Coastline – Crossover
15. Meridian – All In
16. Moonsouls – If I Still Believe
17. Solis & Sean Truby – Raccoon
18. Accendo – Shine On
19. Andy Tau – Into The Void
20. Paul Rigel – Glide Above
21. Paul Rigel – No One Phone
22. UCast – Ternary
23. Gelardi – Just Fly
24. Santerna feat. Vadim K – Maze Of Ice (Colonial One Remix)
25. Sensetive5 feat. Irina Makosh – Full Moon (Solis & Sean Truby Remix)
26. Dimension & Moonsouls – Another Dimension
27. Ultimate – The Next Point
28. Mike van Fabio & AxelPolo vs. D-Serg – Supra
29. Colonial One feat. Simon Latham – Freedom (Ultimate Remix)
YouTube Playlist:
http://www.youtube.com/playlist?list=PL9maZo9IeOWNhg0v2Mnw1TeS5DYiQIHp1
_____________________________
For all info and release dates please visit:
http://www.infrasonicrecordings.com
http://www.facebook.com/infrasonicrecordings
http://www.youtube.com/infrasonicrec
http://www.twitter.com/infrasonicrec
http://www.myspace.com/infrasonicrecordings