LIKE Silk Music:
http://www.facebook.com/SilkMusic
Samples & Purchase:
Beatport:
http://bit.ly/Arrival-BP
iTunes:
http://bit.ly/ARR050-iTunes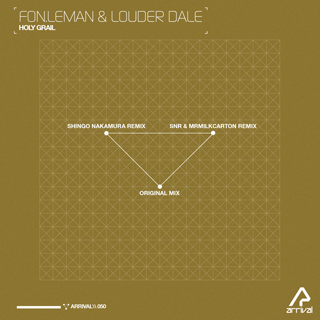 One of the more high octane offerings from our recent Silk Royal Showcase 03 compilation was Fon.Leman & Louder Dale's "Holy Grail." We're excited to finally release this one as a full single on our Arrival division, including equally elegant and club-oriented remixes by Shingo Nakamura and SNR & MrMilkCarton.
Fon.Leman & Louder Dale, who continue to receive regular support on the world's leading progressive & trance shows (including Above & Beyond's "Group Therapy"), have fashioned an explosive, peak-hour stormer in their Original Mix.The track centers on a roaring bassline and a heavenly vox sample, the latter of which is extended in the main break to poignant effect. The dancefloor-smashing drop to follow is truly colossal and a veritable release highlight.
Japanese sensation Shingo Nakamura, who makes his first appearance on Arrival, follows with a more chilled progressive take. The listener is guided along by a soothing house rhythm, as the vocal motifs from the Original Mix begin to emerge. Meanwhile, Shingo's stunning piano work is once again on display, as several variations on the main theme appear throughout the tune.
Finally, Arrival veteran SNR has teamed up with fellow American talent Mrmilkcarton for a visionary, progressive trance rendering. We are once again treated to an innovative and dynamic club groove, an SNR signature, while the vocal themes swirl overhead. In the main break, a lovely piano line is introduced, along with a sexy breakbeat. The relatively chilled break leads into an explosive drop, which rivals the Original Mix in its thrilling, dancefloor-centered intensity.
Info:
Cat#: ARR050
Beatport release date: July 15th, 2013
iTunes release date: July 29th, 2013
Genre: progressive house, progressive trance, trance
Format: digital
Stores: Beatport, iTunes, JunoDownload
Tracklist & YouTube Previews:
01 Fon.Leman & Louder Dale - Holy Grail (Original Mix)
02 Fon.Leman & Louder Dale - Holy Grail (Shingo Nakamura Remix)
03 Fon.Leman & Louder Dale - Holy Grail (SNR & Mrmilkcarton Remix)
Artist Info:
https://soundcloud.com/fonleman
https://soundcloud.com/louder-dale
For More Information:
Facebook:
http://facebook.com/SilkMusic
YouTube:
http://youtube.com/user/SilkMusicChannel
Twitter:
http://twitter.com/SilkMusic
SoundCloud:
http://soundcloud.com/SilkMusic
Silk Royal Showcase:
http://silkroyalshowcase.com