LIKE Silk Music:
http://facebook.com/SilkMusic
SUBSCRIBE to Silk Music:
http://bit.ly/SilkYouTube
Samples & Purchase:
Beatport:
http://bit.ly/Arrival-BP
iTunes:
http://smarturl.it/ARR061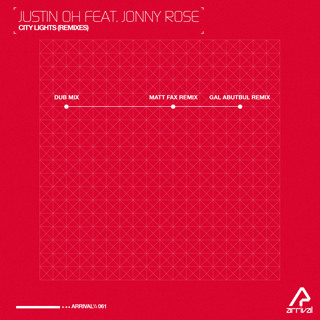 Justin Oh (South Korea) recently showcased his "City Lights" single on Arrival, featuring Jonny Rose (USA) on vocals. The song received massive radio support by many global stars, including Above & Beyond, Gareth Emery, and Andy Moor. This release features two new remixes from Gal Abutbul (Israel) and Matt Fax (France), both consistent contributors to the label.
Gal Abutbul's remix starts out with a firm groove, as well as intriguing background melodies and sound effects. The captivating vocals of Jonny Rose emerge in the break, which are later accompanied by a strong piano riff. The song reaches its climax when the truly energetic theme synth comes into full focus, which also plays quite well with the vocal elements.
A smooth groove is quickly established in Matt Fax's remix, including hypnotic bass and background effects. The break features Jonny's vocals and numerous synth layers that build up to the peak moment of the track. A number of strong theme riffs combine beautifully to support the vocal line in the climax.
As the closer on the release, a Dub Mix of the original song is included.
Info:
Cat#: ARR061
Beatport release date: March 10th, 2014
iTunes release date: March 24th, 2014
Genre: progressive trance, progressive house, trance, house
Format: digital
Stores: Beatport, iTunes, JunoDownload
Tracklist & YouTube Previews:
01 Justin Oh feat. Jonny Rose - City Lights (Gal Abutbul Remix)
02 Justin Oh feat. Jonny Rose - City Lights (Matt Fax Remix)
03 Justin Oh feat. Jonny Rose - City Lights (Original Dub Mix)
Artist Info:
Justin Oh feat. Jonny Rose:
https://facebook.com/justinohmusic
Gal Abutbul:
https://www.facebook.com/galbutbulmusic
Matt Fax:
https://www.facebook.com/mattfaxmusic
For More Information:
Facebook:
http://facebook.com/SilkMusic
YouTube:
http://youtube.com/user/SilkMusicChannel
Twitter:
http://twitter.com/SilkMusic
SoundCloud:
http://soundcloud.com/SilkMusic
Google+:
http://gplus.to/SilkMusic
Silk Royal Showcase:
http://silkroyalshowcase.com