OUT NOW (Beatport Exclusive) | http://bit.ly/LYNEVBP
____________________________
Estonia's
Lang & Yep
team up with Dutch singer/songwriter
Manon Polare
for their debut on
Enhanced Progressive
, and the result is nothing short of huge.
Manon's ethereal vocals are beautifully entwined into Lang & Yep's futuristic sound, building layer upon layer of crisp synths onto the floor shaking bassline.
First up on remix duties is one of the hottest talents at the moment,
Juventa
. With a remix that rocks from the off, Juventa packs massive amounts of punch into the proceedings, making this a far tougher alternative to the Original.
Nifra
makes her debut on Enhanced with a superb remix to round off the package. Delightful percussion sets the tone for a production that has an awesome atmosphere throughout, as it builds and teases the listener before unleashing the huge main riff to wonderful effect!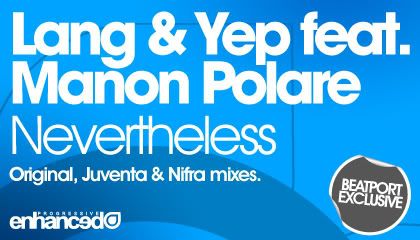 Beatport Date : 27th June 2011
Release Date (other stores) : 11th July 2011
Cat. Number : ENPROG061
Label : Enhanced Progressive / Enhanced Music

Tracklist:
1. Nevertheless (feat. Manon Polare) (Original Mix)
2. Nevertheless (feat. Manon Polare) (Juventa Remix)
3. Nevertheless (feat. Manon Polare) (Nifra Remix)
Supportlist: Markus Schulz, Alex M.O.R.P.H, Dash Berlin, Ferry Tayle, Ernesto & Bastian, Guiseppe Ottaviani, John Askew, Jon O'Bir, M.I.K.E, Marcus Schossow, Tritonal, Will Holland, 4 Strings, 7 Skies, Aaron Camz, Akira Kayosa, Andre Visior, Angel Ace, Beat Service, Ben Nicky, Binary Finary, Cressida, David Forbes, Dimitri Kechagias, DJ Ange, DJ Observer, Flash Brothers, Haris C, Harry Fowler, Jonas Hornblad, Jonathan Martin, Joni Ljungqvist, Jorn van Deynhoven, Juventa, M6, Manuel Le Saux, Marc Simz, Michael Angelo, MoodFreak, P.H.A.T.T, Paul Pearson, Redstar, Robert Nickson, Sam Wankowski, Sebastian Brandt, Sequentia, Shawn Mitiska, Six Senses, Steve Anderson, Stoneface & Terminal, Store N Forward, Suncatcher, Suzy Solar, Taras Huntley, Tempo Giusto, Tommy Baynen, Vinny Troya, W & W, Willem de Roo, William Daniels, Xgenic and many more...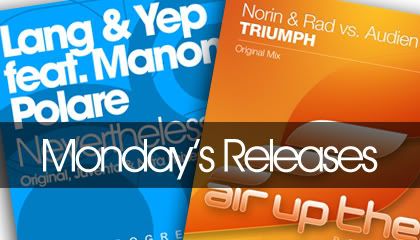 ENPROG061: Lang & Yep feat. Manon Polare - Nevertheless
http://bit.ly/LYNEVBP
AUTR006: Norin & Rad vs. Audien - Triumph
http://bit.ly/NRABP