LIKE Silk Music:
http://www.facebook.com/SilkMusic
SUBSCRIBE to Silk Music:
http://bit.ly/SilkYouTube
Samples & Purchase:
Beatport:
http://bit.ly/SilkDigital
iTunes:
http://bit.ly/SILK072-iTunes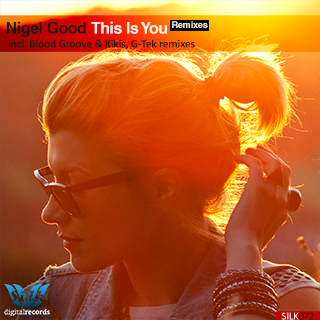 One of our biggest releases this year thus far has been Nigel Good's "The Balance" EP, which was supported live and on radio by names as acclaimed (and wide-ranging) as Above & Beyond and Porter Robinson. We are thrilled to feature two brand new remixes of "This Is You", the opening cut on that EP. Called into duty for the honors are two tremendous veteran talents on our imprint: G-Tek, a leading artist rom Panama, and Blood Groove & Kikis, who continues to gain international acclaim for their diverse and prolific catalogue.
G-Tek's remix begins with an electro-tinged baseline, while gorgeous pads punctuate the soundscape. As the song continues to crescendo, we are met by a hypnotic and truly euphoric series of vox stabs. In the main break, funky and truly radiant pads, a G-Tek signature, set the mood, while the deeply moving lead vocal makes its entrance. In addition, a piano instrumental adds deeper emotional resonance to the tune. When the vox re-enter the mix at the drop, the listener is treated to one of G-Tek's finest moments in his illustrious career.
Blood Groove & Kikis take a "classic" progressive approach to their rendering. Warm vibes permeate the tune from its onset, as a gentle, end-of-summer groove playfully guides the listener along. A lovely piano progression joins the lead synth layers, which, together, offer blissful, beachside textures. The irresistible melodies in this one prove that Blood Groove & Kikis have quickly become one of the finest acts in the genre.
Info:
Cat#: SILK072
Beatport release date: September 24th, 2013
iTunes release date: October 8th, 2013
Genre: progressive house
Format: digital
Stores: Beatport, iTunes, JunoDownload
Tracklist & YouTube Previews:
01 Nigel Good feat. Sarah Clark - This Is You (G-Tek Remix)
02 Nigel Good feat. Sarah Clark - This Is You (Blood Groove & Kikis Remix)
Feedback:
Aeron Aether, Mike Shiver, Shingo Nakamura, Kenneth Thomas, Blake Jarrell, Shawn Mitiska, Jaytech, Ruben De Ronde, Max Graham, Aruna, Johan Nilsson, Tjerk Coers, Andy Moor, James Warren, Dave Hart, Aerosoul
Artist Info:
http://soundcloud.com/nigelgood
http://soundcloud.com/gtekmusik
http://soundcloud.com/bloodgroove-kikis
For More Information:
Facebook:
http://facebook.com/SilkMusic
YouTube:
http://youtube.com/user/SilkMusicChannel
Twitter:
http://twitter.com/SilkMusic
SoundCloud:
http://soundcloud.com/SilkMusic
Silk Royal Showcase:
http://silkroyalshowcase.com
Photography:
Photographer: Sorin Bogdan
Website:
http://www.sorinbogdan.co.uk