Joined

Feb 23, 2007
Messages

106
Reaction score

0
LIKE Silk Music:
http://www.facebook.com/SilkMusic
SUBSCRIBE to Silk Music:
http://bit.ly/SilkYouTube
Samples & Purchase:
Beatport:
http://bit.ly/SilkSofa
iTunes:
http://bit.ly/SILKSF067-iTunes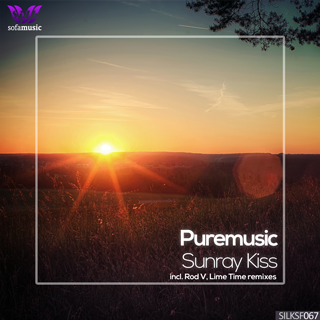 Following Puremusic's recent artist album "Purity" on Silk Sofa, we're proud to present the single release of "Sunray Kiss" from the album. It features remixes by two well-known label residents: Rod V (Guatemala) and Lime Time (Russia).
The Original Mix starts off with a blissful atmosphere, including a mesmerizing lead theme and soothing pad layers. The breakbeat brilliantly contributes to the calm soundscape, and an array of beautifully crafted melodies dominates the song throughout its entirety. Following his "Sueños De Color" EP on Silk Sofa, Rod V returns with his interpretation of "Sunray Kiss". An intriguingly haunting atmosphere is quickly established, including soothing background synths and an enjoyable, growling bassline. Later, additional well-crafted melodies are added, including an interesting variation on the theme melody from the Original Mix. Lime Time is a busy man at the moment, but his work remains consistently strong. A tranquil background arpeggio line, as well as a soothing breakbeat, introduce the track, and later, a great flute-inspired motif enters the mix. The theme melody is a quite energetic synth riff, which happens to go extremely well with the remaining elements.
Info:
Cat#: SILKSF067
Beatport release date: November 7th, 2013
iTunes release date: November 21st, 2013
Genre: downtempo, chillout
Format: digital
Stores: Beatport, iTunes, JunoDownload
Tracklist & YouTube Previews:
Feedback:
Jerome Isma-Ae, Ruben de Ronde, Shawn Mitiska, Stephen J. Kroos, Max Graham, Dinka, Solarstone, Dash Berlin, Jaytech, Ad Brown, Tim Angrave, Soarsweep / Smooth Stab, James Warren, Deepsense, Biologik, Dynamic Illusion, Peter Illias, PHW, Flash Brothers, Gai Barone, Wahed Achterberg, Yuriy From Russia, MATAMAR DJs, 100tonn, Alex Drayling, Daniel Davis, Braak
Artist Info:
Puremusic:
https://soundcloud.com/the-puremusic
Rod V:
http://soundcloud.com/rod-v
Lime Time:
https://soundcloud.com/limetime
For More Information:
Facebook:
http://facebook.com/SilkMusic
YouTube:
http://youtube.com/user/SilkMusicChannel
Twitter:
http://twitter.com/SilkMusic
SoundCloud:
http://soundcloud.com/SilkMusic
Google+:
http://gplus.to/SilkMusic
Silk Royal Showcase:
http://silkroyalshowcase.com
Photography:
Photographer: CleverlessPhotoshopt
Website:
https://www.facebook.com/cleverlessphotoshopt