Joined

Feb 23, 2007
Messages

106
Reaction score

0
LIKE Silk Music:
http://facebook.com/SilkMusic
SUBSCRIBE to Silk Music:
http://bit.ly/SilkYouTube
Samples & Purchase:
Beatport:
http://bit.ly/SilkSofa
iTunes:
http://smarturl.it/SILKSF072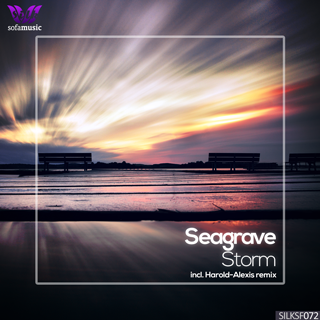 Featured on Seagrave's recently launched debut album on Silk Sofa, "Storm" now gets its own single release, including an intricate remix by Harold-Alexis. An accomplished label veteran who hails from Canada, Harold-Alexis joins us after his successful remix of Gregory Esayan's "Innerspace", which was even featured on several prominent American news channels (CBS and FOX).
The Original Mix of "Storm" starts off with soothing pad layers and an intriguing bassline. Seagrave's haunting and beautiful vocals emerge, combining gorgeously with a light piano line in the background. Harold-Alexis provides a downtempo interpretation, which quickly establishes a groovy, mesmerizing rhythm, further enhanced by numerous lush melodies and sound effects. A stunning piano theme gives extra texture, which suits Seagrave's vocals perfectly.
Info:
Cat#: SILKSF072
Beatport release date: January 30th, 2014
iTunes release date: February 13th, 2014
Genre: downtempo, chillout
Format: digital
Stores: Beatport, iTunes, JunoDownload
Tracklist & YouTube Previews:
Feedback:
Jaytech, Roger Shah, Myon & Shane 54, Aeron Aether, Solarstone, Shawn Mitiska, Santerna, Raz Nitzan, Matt Fax, Ad Brown, Soarsweep / Smooth Stab, Vintage & Morelli, Wahed Achterberg, Deepsense, James Warren, Daniel Davis, Alex Drayling, Peter Illias, City Lies, Max Graham, Braak
Artist Info:
Seagrave:
https://soundcloud.com/everlight
Harold-Alexis:
http://soundcloud.com/harold-alexis
For More Information:
Facebook:
http://facebook.com/SilkMusic
YouTube:
http://youtube.com/user/SilkMusicChannel
Twitter:
http://twitter.com/SilkMusic
SoundCloud:
http://soundcloud.com/SilkMusic
Google+:
http://gplus.to/SilkMusic
Silk Royal Showcase:
http://silkroyalshowcase.com
Photography:
Photographer: Jan Laeton R.
Website:
http://thinking-silence.deviantart.com