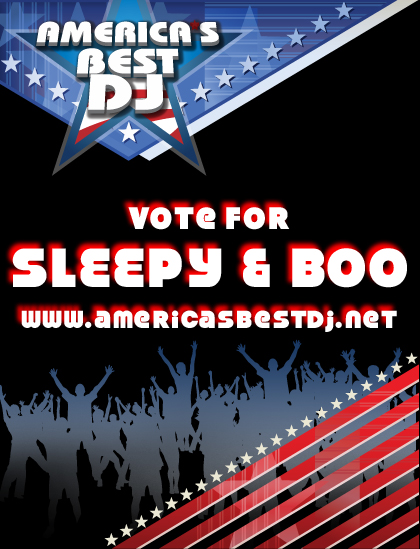 VOTE FOR SLEEPY & BOO!
In DJ Times "America's Best DJ" 2011 Poll
We've been picked as one of the 100 finalists in DJ Times' "America's Best DJ 2011" poll! It's a huge honor for us, and we're very excited to be mentioned along with some of our favorite artists and inspirations.
So take a few seconds to vote for Sleepy & Boo and your other favorite DJs. After your vote, you'll be eligible to win DJ equipment from Pioneer, a free trip for two to Las Vegas for the America's Best DJ closing ceremonies on October 1st, and more.
Here's all the info:
America's Best DJ Website: Americas Best DJ 2011
Voting page:
Voter for America's Best DJ 2011
Thanks to DJ Times for selecting us and thanks to you for all your support!
Sleepy & Boo
BASIC NYC
Sleepy & Boo | Facebook
Sleepy and Boo (sleepyboo) on Twitter